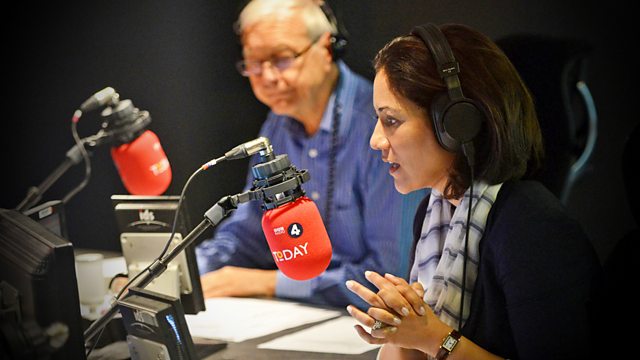 23/05/2009
Presented by John Humphrys and Evan Davis.
Political correspondent Ross Hawkins and Labour MP John Mann debate whether John Wick could be prosecuted over the revelations about MPs' expenses.
The UN Secretary General Ban Ki-moon is in Sri Lanka to meet the president, following the end of the military conflict with Tamil Tiger rebels. Laura Trevelyan reports.
Reporter Sanchia Berg returns to Swindon to see Alison Hindmarsh, who lost her job at the Woolworths warehouse when the stores closed.
Iran's presidential election campaign is to begin. Correspondent Jon Leyne reports from Teheran.
The Church of Scotland is to decide whether gay minister Reverend Scott Rennie will be allowed to take up his post following a petition opposing his appointment from evangelical church members. The Reverends Ewen Gilchrist and David Randall discuss the opposition to gay minister Scott Rennie's appointment.
Emma Jane Kirby reports on the economic sense behind investing in cows in France.
Thought for the day with Canon David Winter.
Historian Dr Peter Mandler and writer Heather Brooke discuss whether the MPs' expenses scandal has generated a general collapse of confidence in our institutions.
Sri Lanka correspondent Charles Haviland and Professor Michael Clarke discuss the extent of support towards the Tamil Tigers in Sri Lanka.
Zubeida Malik reports on Conservative MP Andrew Mackay's pledge to stand for re-election.
Media lawyer Magnus Boyd discusses whether the way the internet is used means we have look again at the laws on contempt of court.
Sun columnist Trevor Kavanagh and Independent columnist Steve Richards debate whether politicians can regain their lost credibility.
Owen Bennet-Jones reports from the Swat Valley in Pakistan on the third week of conflict there.
Professor Geoffrey Beattie and Garry Marshall, Manager of Wallsend Boys Club, discuss the psychological impact of relegation.
Music producer Danger Mouse and the film Director David Lynch are releasing an album - the only trouble is you can't buy it. Danger Mouse talked to reporter Nicola Stanbridge.
Professor John Sutherland, of University College London, discusses the connection between fiction and murder.
Last on
Call 0800 082 82 84 to donate to the Radio 4 Christmas Appeal
Life Inside 'Islamic State': Diaries