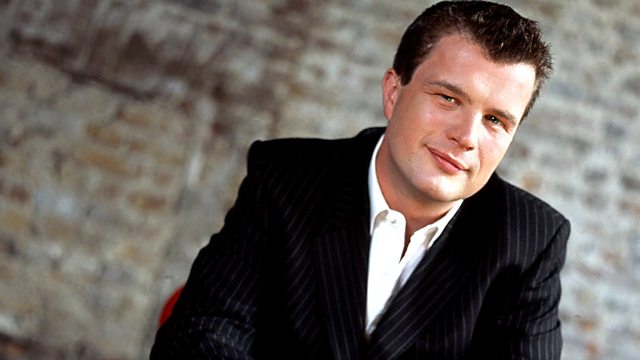 15/05/2009 Min-Jin Kym and Joanna MacGregor
Petroc Trelawny presents a selection of music and guests from the arts world.
Violinist Min-Jin Kym and pianist Ian Brown play in the studio and talk to Petroc about their forthcoming performance at the Wigmore Hall, where the programme includes Stravinsky, Beethoven, Brahms and Bartok.
Bath Music Festival's Artistic Director and acclaimed pianist Joanna Macgregor joins tenor Paul Nilon to perform the first six songs from Janacek's The Diary of One Who Disappeared and discuss this year's festival programme.
17:02
SHOSTAKOVICH
Festive Overture Op 96
Russian National Orchestra
Pletnev (conductor)
DEUTSCHE GRAMMAPHON DG 4398922
Track 3
5'29
17:09
SATIE
Gymnopedie No 1
Joanna Macgregor (piano)
Sound Circus
Track 1
3'07
17:13
LIVE
BEETHOVEN
Sonata for Violin and Piano Op.30 no.1 in A major (1st movement: Allegro)
Min-Jin Kym (violin)
Ian Brown (piano)
8'00
17:26
LIVE
BRAHMS
Sonata for violin and piano No 1 Op 78 in G major (1st movement: Vivace ma non troppo)
Min-Jin Kym (violin)
Ian Brown (piano)
12'02
17:43
BEETHOVEN
Violin Concerto in D major Op 61 (Final movement)
Min-Jin Kym (violin)
Philharmonia Orchestra
Sir Andrew Davis (conductor)
SONY 88697144422
Track 3
10'20
17:54
COATES
Knightsbridge March
East of England Orchestra
Malcolm Nabarro (conductor)
ASV CD WHL 2053
Track 9
4'16
18:03
MOZART
Marriage of Figaro (Overture)
The Royal Philharmonic Orchestra
Silvio Varviso (conductor)
GLYNDEBOURNE GFOCD 001-62
CD 1 Track 1
4'07
18:07
FREDRIK KEMPE
La Viox (2009 Sweden Eurovision entry)
Malena Ernman (mezzo soprano)
WHITE LABEL
0'48
18:09
WILLIAM BOLCOM
Cabaret Songs (Murray the Furrier)
Malena Ernman (mezzo soprano)
Bengt-Aske Lundin (piano)
BIS CD 1154
Track 2
2'26
18:13
GERSHWIN
Piano Concerto in F (3rd Movement)
Joanna Macgregor (piano)
LSO
Carl Davis (conductor)
WHITE LABEL
Track 1
6'36
18:23
LIVE
JANACEK
From The Diary of One Who Disappeared –
I. One Day I Met a Young Girl,
II. That Dark-Skinned Gypsy Girl
III. The Glow-Worms Are Dancing
IV. The Young Swallows
V. Poughing Is Heavy Work
VI. Hey, You Grey Oxen
Paul Nilon (tenor)
Joanna Macgregor (piano)
7'31
18:36
MZILIKAZI KHUMALO
Princess Magogo ka Dinuzulu (extract)
Sibongile Khumalo (mezzo)
WHITE LABEL
Track 8
5'00
18:44
HAYDN
Trumpet Concerto in E flat (1st movement)
Alison Balsom [trumpet]
German Chamber Philharmonic Bremen
EMI 2 16213 0 7
Track 4
6'32
18:51
OFFENBACH
Tales of Hoffman (Kleinzach Song from Act 1)
Rolando Villazon (Hoffman)
Royal Opera Chorus
Orchestra of the Royal Opera House
Antonio Pappano (conductor)
CDR
Track 1
5'48
18:57
BOLCOM
Twelve Songs from 'Cabaret Songs' (Places to Live)
Malena Ernman (mezzo soprano)
Bengt-Aske Lundin (piano)
BIS CD 1154
Track 7
1'54
Last on