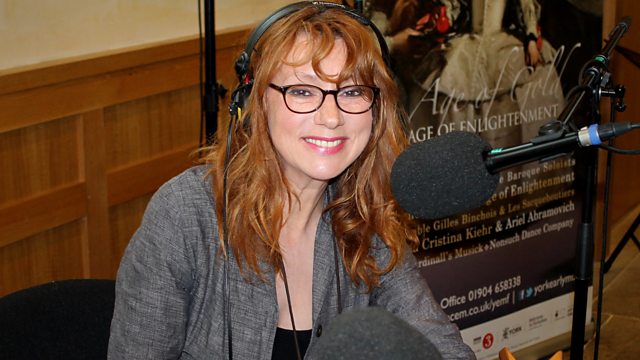 Mendelssohn Weekend
Catherine Bott talks to Christoph Wolff about Mendelssohn's love of the music of the Bachs and the links between these two families. Mendelssohn's great aunt, Sara Levy, studied with JS Bach's son, Wilhelm Friedemann, and she also owned a very extensive collection of music, among which were many works by Johann Sebastian and his four sons. Madame Levy also commissioned new works and became a patron for the two elder Bach brothers.
The programme includes excerpts from Mendelssohn's arrangement of JS Bach's St Matthew Passion and works by two of his sons, WF and CPE Bach.
Playlist:
Bach: Wir setzen uns mit Tranen nieder (St Matthew Passion - final chorus) - arr Mendelssohn 1841
Das Neue Orchester
Chorus Musicus
Christoph Spering (conductor)
OPUS 111 OPS 30-72/73
CD2, Tr 31
Bach: Keyboard concerto in D minor, BWV1052 (2nd mvt)
Gustav Leonhardt (harpsichord)
Collegium Aureum
DEUTSCHE HARMONIA MUNDI 05472 77412-2, Tr 8
CPE Bach: Symphony No 1 in D (final mvt)
The English Concert
Andrew Manze (director)
HARMONIA MUNDI HMU 907403, Tr 3
CPE Bach: La Borchward (Polonaise); La Pott (Minuet) (23 Pieces caracteristiques)
Christine Schornsheim (plays on Hammerflugel by Matthias Heilmann, 1780)
CAPRICCIO 10 424, Trs 15 and 16
Bach: Chorale: Was mein Gott will (St Matthew Passion)
Das Neue Orchester
Chorus Musicus
Christoph Spering (conductor)
OPUS 111 OPS 30-72/73
CD1, Tr 20
WF Bach: Adagio and Fugue in D minor
Florilegium
CHANNEL CLASSICS CCS 9096, Trs 5-6
CPE Bach: Double concerto for harpsichord and fortepiano W47 (3rd mvt)
Anneke Uittenbosch (harpsichord)
Jean Antonietti (fortepiano)
Concentus Musicus Wien
Leonhardt Consort
TELDEC 0630 12326 2, Tr 3
Mendelssohn: Motet: Tu es Petrus, Op 111
Stuttgart Chamber Choir
German Chamber Philharmonic Bremen
Frieder Bernius (conductor)
CARUS 83216, Tr 9.
Last on