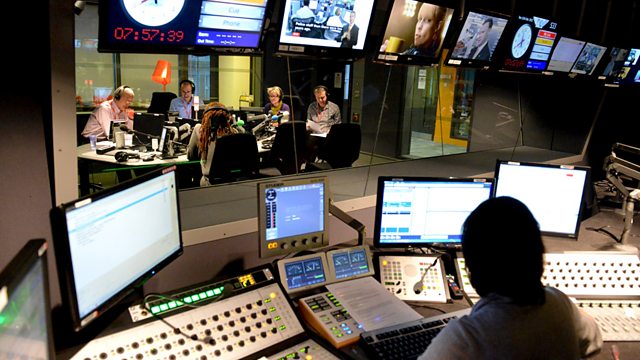 12/05/2009
Presented by Sarah Montague and James Naughtie.
Chandeliers, horse manure and swimming pools all feature among the latest expenses revealed by The Telegraph for eight Conservative MPs.
Ministers are being urged to recruit an extra 2,000 police officers in England and Wales to deal with rising crime from the recession.
The Commons Speaker Michael Martin is under scrutiny for the comments he made about MPs' expenses. Douglas Carswell MP talks about whether a motion of no-confidence should be called.
Swine flu report author Professor Neil Ferguson says the virus has true pandemic potential.
Dr Marian Fitzgerald and police spokesman Paul McKeever discuss if more police officers are needed to combat the rise in crime caused by the recession.
The prime minister has said he wants Britain to be at the heart of Europe, but can that ever be possible? Europe correspondent Jonny Dymond looks into the issue.
Anatol Lieven, professor in the War Studies Department of King's College, London, considers whether Pakistan has the military and democratic strength to defeat the Taleban.
Peter Hunt looks back to Prince Charles's speech to the Royal Institute of British Architects in 1984.
Danny Kushlick, of the drug policy think tank Transform, discusses whether the war on drugs is being won.
The Commons Speaker has said MPs should claim expenses 'in the spirit of what is right'. Conservative Lord Tebbit says the electorate are extremely angry with the House of Commons. Lib Dem MP Norman Baker and Labour peer Lord Foulkes discuss if Speaker Michael Martin was right to speak out. Political editor Nick Robinson reflects on another set of revelations about expense claims.
Today presenter Edward Stourton reports on the Pope's comment that every effort must be made to combat anti-Semitism.
Author Gurcharan Das and Hong Kong businessman Sir David Tang discuss which developing economy will develop most quickly, India or China.
The flamboyant rock group the New York Dolls made a major comeback five years ago. Their mix of blues and punk in the 1970s had a huge influence but the band imploded from their drugs excesses and when a couple of its members died. Reporter Nicola Stanbridge talks to surviving members David Johansen and Sylvain Sylvain, who have started writing together again.
Both the Conservatives and Labour have dropped 4 per cent in the polls, a survey for The Times concludes. The paper's interpretation of the figures is that the public is 'united in revulsion over the disclosures on MPs' expenses'. Reporter Nick Ravenscroft visits Manchester to see if some of those who feel outside the political system feel alienated. Sir Robert Worcester, president of Ipsos Mori, discusses the findings.
Last on