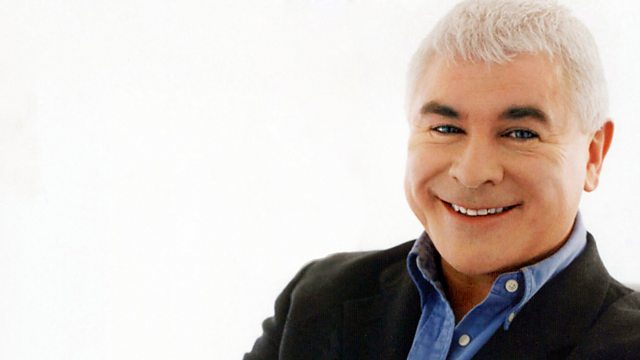 07/05/2009 Wu Man and Libor Pesek
Sean Rafferty presents a selection of music and guests from the arts world.
With Wu Man performing on the pipa (a Chinese lute-like instrument) and talking about her forthcoming concert, part of the Barbican's Beyond the Wall series.
Celebrated Czech conductor Libor Pesek is in the studio ahead of his performance in Birmingham with the Prague Symphony Orchestra and cellist Nina Kotova. It features music by Dvorak, Smetana and others.
Plus Sean talks to Marilyn Jeffcoat, Chairman of Mendlessohn on Mull Festival, about a newly discovered portrait purportedly of Mendlessohn during his 1829 tour of Scotland.
17:02
SMETANA
The Bartered Bride (overture)
Royal Liverpool Philharmonic Orchestra
Libor Pešek (conductor)
VC 7 59285 2
Track 1
6.46
17:09
CHOPIN
Nocturne in D flat, Op 27 No 2
Lang Lang (piano)
DEUTSCHE GRAMMAPHON DG 474 820 2
CD 1 Track 18
6.07
17:16
TAN DUN
Concerto for String Orchestra & Pipa (1st movement: Andante molto)
Wu Man (pipa)
Moscow Soloists
Yuri Bashmet (director)
ONYX 4027
Track 1
3.54
17:26
LIVE
WU MAN
Night Thoughts
Wu Man (pipa)
3'43
17:35
LIVE
TRADITIONAL
White Snow in Spring
Wu Man (pipa)
3.27
17:40
DEBUSSY
Prelude a l'apres-midi d'un faune
Emmanuel Pahud (flute)
Berlin Philharmonic
Claudio Abbado (conductor)
DEUTSCHE GRAMMAPHON DG 471 332 2
Track 1
9.15
17:50
FASCH
Overture suite in G minor (Gavotte & Air)
Giuliano Sommerhalder (trumpet)
Julia Schröder (conductor & solo violin)
Kammerorchester Basel
DHM 88697446412
Tracks 12, 13
4.11
17.55
TCHAIKOVSKY
The Queen of Spades (Act I: Odnazhdy v Versalye)
Boston Symphony Orchestra
Tanglewood Festival Chorus
Seiji Ozawa (conductor)
RCA 09026 60992
Track 10
3'52
18:03
DVOŘAK
Czech Suite (5th movement: Furiant)
Czech Philharmonic Orchestra
Libor Pešek (conductor)
VC 5 61853 2
CD 5 Tack 5
5.24
18:12
JANÁČEK
Sinfonietta (2nd movement: Andante)
Philharmonia
Libor Pešek (conductor)
VC 7 91506-2
Track 3
5.37
18:22
DVORAK
Symphony No 9 "From the New World"(Finale: Allegro con fuoco)
Prague Symphony Orchestra
Libor Pešek (conductor)
Classic 75605 57043 2
Track 4
10.40
18:34
BACH, after Vivaldi
Concerto in G major BWV973
Alexandre Tharaud (piano)
HMC 901871
Tracks 16-18
2.27
18:45
MENDELSSOHN
Symphony No 3 in A minor (2nd movement: Vivace non troppo)
Scottish Chamber Orchestra
Joseph Swensen (conductor)
Linn CKD 216
Track 6
4.11
18:50
RACHMANINOV
Twilight (Op.21 no.3)
Mischa Maisky (cello)
Sergio Tiempo (piano)
DEUTSCHE GRAMMAPHONE 477 7235
Track 3
3'03
18:54
STRAUSS
Four Last Songs (Beim Schlafengehen, Going to Sleep)
Elisabeth Soderstrom (soprano)
Royal Philharmonic Orchestra
Antal Dorati (conductor)
BBCL 4153-2
Track 3
5.02
Last on
Matthew Kaner is the new 'Composer in 3'