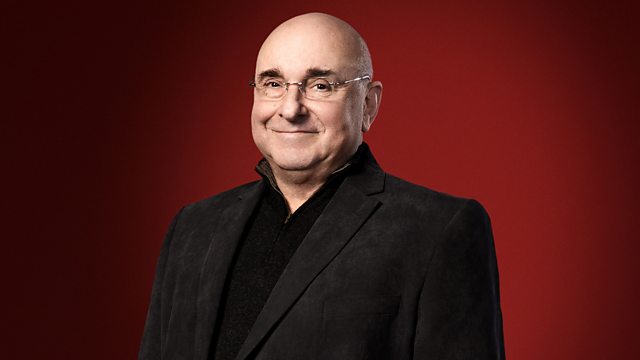 Manchester
With Iain Burnside.
He explores Manchester's rich musical scene, past and present. His guest is pianist and composer Stephen Hough, whose choice of music includes recordings by Manchester artists and performing groups.
Gliere: Dancing Scene from The Bronze Horseman
BBC Philharmonic
Edward Downes (conductor)
Chandos CHAN 9379, Tr 3
Duration: 6m06s
Mozart: Symphony No 40 in G minor, K 550 (Second Movement)
Manchester Camerata, Douglas Boyd (conductor)
Avie AV2107, Tr 2
Duration: 8m49s
Vivaldi: Manchester Sonata No 2 in D minor, RV12
Romanesca:
Andrew Manze (violin)
Nigel North (lute)
John Toll (harpsichord)
Harmonia Mundi HM 907089, Trs 5-9
Duration: 10m46s
Thomas Ades: These Premises Are Alarmed
City of Birmingham Symphony Orchestra
Thomas Ades (conductor)
EMI 56818, Tr 8
Duration: 3m42s
Saint-Saens: Piano Concerto No 3 in E flat, Op 29 (finale)
Stephen Hough (piano)
City of Birmingham Symphony Orchestra
Sakari Oramo (conductor)
Hyperion CDA673312 CD1, Tr 9
Duration: 6m56s
Liszt: Un Sospiro (Concert Etude, S44 No 3)
Egon Petri (piano) recorded 1937
APR7023 CD1, Tr 13
Duration: 4m25s
Alan Rawsthorne: Bagatelles
Stephen Hough (piano)
Hyperion CDA67267, Trs 1-4
Duration: 5m39s
John Ireland: The Holy Boy
English Northern Philharmonia
David Lloyd Jones (conductor)
Naxos 8555068, Tr 7
Duration: 2m56s
Norman Cocker: Tuba tune
Alan Wicks (organ of Canterbury Cathedral)
GUILD GRCD 7023, Tr 5
Duration: 4m20s
Elgar: First Symphony (finale)
The Halle Orchestra
Mark Elder (conductor)
Halle 7500, Tr 4
Duration: 12m13s
Chopin: Ballade No 3 in A flat, Op 47
Kristian Zimerman (piano)
DG 459 053 2, Tr 3
Duration: 7m21s
John Foulds: April - England, 1926
City of Birmingham Symphony Orchestra
Sakari Oramo (conductor)
Warner 2564629992, Tr 4
Duration: 7m52s
Harrison Birtwistle: Orpheus Elegies (Nos 19 and 20)
Andrew Watts (countertenor)
Melinda Maxwell (oboe)
Helen Tunstall (harp)
Dutton CDLX 7139, Trs 11, 10
Duration: 1m17s (Elegy No 19); 3m00s (Elegy No 20)
Mendelssohn: Scherzo in A minor, Op 81, No 2
Coull String Quartet
Hyperion CDA 66397, Tr 10
Duration: 3m35s
William German: March, The President
Williams-Fairey Engineering Band
Roy Newsome (conductor)
Grasmere GRACC17, Tr 7
Duration: 4m03s.
Last on