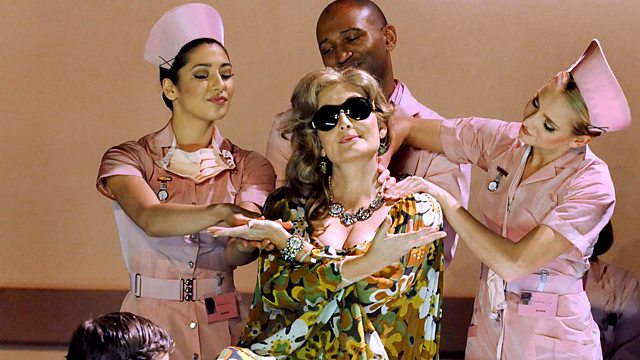 Skin Deep
Presented by Tom Service.
David Sawer and Armando Iannucci's satirical opera about society's obsession with staying young and beautiful. Richard Farnes conducts and Richard Jones directs an Opera North production from the Grand Theatre in Leeds.
It is set in the clinic of cosmetic surgery genius Doktor Needlemeier, who has a dark secret - he's concocting an elixir of youth. All he needs to perfect it is a contribution from Hollywood star Luke Pollock - but when Luke leaves the clinic only half the man he was, questions are asked and Needlemeier flees to California.
Dr Needlemeier ...... Geoffrey Dolton (baritone)
Lania (his wife) ...... Janis Kelly (soprano)
Donna (his receptionist) ...... Heather Shipp (mezzo-soprano)
Elsa (his daughter) ...... Amy Freston (soprano)
Robert (a villager) ...... Andrew Tortise (tenor)
Luke Pollock (a Hollywood actor) ...... Mark Stone (bass-baritone)
Susannah Dangerfield (a reporter) ...... Gwendoline Christie
Patient ...... Gillene Herbert (soprano)
Donnalike ...... Sarah Blood (soprano)
Robertalike1 ...... Nicholas Butterfield (bass)
Robertalike 2 ...... Trevor Bowes (bass)
Opera North Chorus
Orchestra of Opera North
Richard Farnes (conductor).
Last on