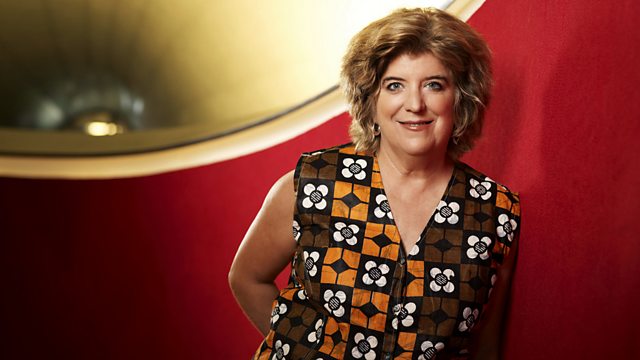 Oumou Sangare
Presented by Lucy Duran
Produced by James Parkin
Saturday 2nd May 2009
Line-up:
Oumou Sangare (vocals)
Souleymane Sidibe (calabash)
Sekou Bah (bass guitar)
Hamane Toure (guitar)
Brehima 'Benego' Diakite (kamel ngoni)
Aliou Dante (drums)
Cheick Oumar Diabate (djembe)
Amadou Traore (flute)
Dandio Sidibe (backing vocals)
Fatoumata Diawara (backing vocals)
1. Sounsoumba (Sangare, Arr. Cheick Tidiane Seck)
2. Iyo djeli (Sangare, Arr. Massambou Wele Diallo)
3. Seya (Arr. Sangare/Cheick Tidiane Seck)
Interview with Oumou Sangare
4. Donso (Trad, Arr. Sangare)
5. Kounandya (Sangare, Arr. Cheick Tidiane Seck)
6. Mogo Kele (Sangare, Arr. Massambou Wele Diallo)
7. Yalla (Sangare)
All recordings made by engineers James Birtwistle and Simon Tindall
LUCY DURAN, who has studied the music of Oumou Sangare for many years, writes the following notes about the songs we hear in this concert programme from the Barbican Hall.
Oumou's song texts are deeply metaphorical and philosophical, reflecting the common beliefs and discourses of Malians, as a way of provoking them to think more critically about their values - especially regarding women.
SOUNSOUMBA is the name of a large tree of the savannah. The song compares a young woman to this proud tree, until she is forced to marry, when she shrinks to a small stunted tree. When women marry in the villages of Wasulu, they have to leave their parental home and move in with their husband's family, often far away. The song reflects on the isolation and grief this causes.
IYO DJELI (celebrating of the art of the griot). In this song, Oumou pays tribute to Djekani Djeli, a griot woman singer who lived in Wasulu in the 1960s. The song talks of one of the great problems that female artists in Mali face, even to this day: the belief that women who pursue a profession will be unable to have children. To be childless in Mali is to be stigmatised, which is what people said would happen to Djekani Djeli, only because she was a singer. Until one day, God gave her a child! Oumou draws parallels with her own decision to become a singer, thanking her mother for her support, and she avows that she too will always sing for those who are "true men".
SEYA (joy). In this song, the title track of her most recent album, her first in six years, Oumou celebrates her joyful return to the Malian public. She talks of her pleasure in ordering her clothes when she visits the tailors, and the coquettish way of wearing a skirt low on the hips. In Mali, all women have their clothes specially tailored, to individual designs; this is one way in which they can express their own identity. She describes how young girls go to the market wearing their waist beads, being flirtatious; in short, this is a song celebrating female sensuality and the right of women to enjoy themselves in public.
DONSO (hunter). This song reaches deep into one of Mali's oldest and most revered cultural traditions, that of the hunters' associations. Hunters are regarded as healers and protectors, upholding the true values of Mande society across the centuries. Oumou uses the special musical style of Wasulu hunters' songs, usually only performed by men, featuring the loping rhythms of the 6-string hunters' harp and scraper. She laments the early death of several great artists from Wasulu, including Allata Brulaye, whom many credit with the invention of the kamalengoni, the youth harp that has become the trademark of her own music. She also laments the death of her own father, Bari Sangare. Death is hard, but it teaches us wisdom and forgiveness.
KOUNADYA (good fortune). Many Malian songs reflect on the nature of destiny. This one says, if you are lucky enough to be blessed with good fortune, either in your marriage, your health, or your profession, don't take it for granted - use it wisely, be grateful, and don't be selfish. Oh, good fortune!
MOGO KELE (one person). This song is about the brevity of life and the need to do something of importance in the short moment we have in the world. Oumou sings: There have been many great leaders and warriors in Mali's pre-colonial past, but their time is over. Banzoumana Sissoko, Mali's "old lion", a great musician, was a brave and uncompromising critic of Mali's rulers, but his time has gone. You cannot dwell on what others have done - you must do some things yourself. Malians, what are you thinking of? Get on with it!
YALA (roaming). This is the only song featured in this programme that is not from her recent album SEYA. It was first released in 2002 on a local cassette in Mali and became a huge hit. It warns young people of the dangers they face when tempted by city nightlife: drugs, alcohol, even prostitution. Oumou criticises men who are out womanising, bringing nothing but problems, but women don't get off lightly either: she compares those who go out roaming the streets at night to a dog looking for a bone to chew.
Last on