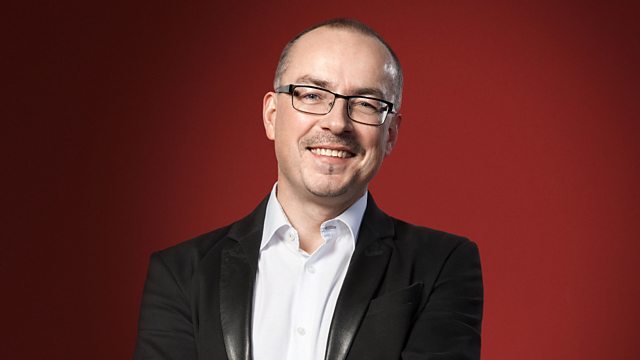 Building a Library: Dvorak: New World Symphony
Building a Library:
DVORAK: Symphony No. 9 in E minor From The New World, Op. 95
Reviewer - Rob Cowan
First choice:
(c/w DVORAK: In Nature´s Realm. Overture from the Cycle of Concert Overtures, Op. 91; Othello. Overture from the Cycle of Concert Overtures, Op. 93)
Czech Philharmonic Orchestra, Karel Ancerl (conductor)
Supraphon SU 3662-2 011 (CD, Mid Price)
CD Review BAL Catalogue Data
bal.dvorak:
bal.dvorak.symphony.no.9.from.the.new.world.op.95
Andrew McGregor introduces Radio 3's weekly programme devoted to all that's new in the world of recorded music.
In this week's programme (timings are approximate):
09.05am
J. HAYDN: Missa Cellensis (Grosse Mariazeller Messe) C-Dur Hob. XXII:5 (Kyrie I – Christe eleison – Kyrie II)
Lydia Teuscher (soprano), Marianne Beate Kielland (alto), Markus Schäfer (tenor), Harry van der Kamp (bass), Anima Eterna, Jos van Immerseel (conductor)
Carus 83.247 (CD)
J. HAYDN: Die Jahreszeiten (The Seasons) Hob. XXI:3 (Nr. 8 Freudenlied)
Genia Kuhmeier (soprano), Werner Gura (tenor), Christian Gerhaher (baritone), Arnold Schoenberg Chor, Concentus Musicus Wien, Nikolaus Harnoncourt (conductor)
Deutsche Harmonia Mundi 88697 28126 2 (2 CDs)
09.30 am Building a Library Recommendation
DVORAK: Symphony No. 9 in E minor From The New World, Op. 95
Reviewer – Rob Cowan
First choice recommendation:
(c/w DVORAK: In Nature´s Realm. Overture from the Cycle of Concert Overtures, Op. 91; Othello. Overture from the Cycle of Concert Overtures, Op. 93)
Czech Philharmonic Orchestra, Karel Ancerl (conductor)
Supraphon SU 3662-2 011 (CD, Mid Price)
Next week Piers Burton-Page compares recordings of Mendelssohn Octet Op. 20.
10.25 am Recent Releases
Stella del nostro mar
PETRUS: Ave Maria, virgo serena; MOUTON: Ave fuit prima salus; O Maria, virgo pia; PENALOSA: Sancta mater istud agas; ISSAC: Alma redemptoris mater; Sub tuum praesidium; O praeclarissima; GALANTE: Stella del nostro mar; SENFL: Virgo prudentissima; WILLAERT: Ave Maria, gratia plena; JOSQUIN: Gaude virgo mater Christi; GUBANOV: Benedicta et venerabilis
Cantica Symphonia
Glossa GCD P31905 (CD)
Vespro della beata Vergine
MAZZOCCHI: Psalmi Vespertini binis choris concinendi (Roma, 1648); Sacri flores Op. 1; CARISSIMI: Exsurge cor meum; O dulcissimum Mariae nomen; Salve Regina; FRESCOBALDI: Canzona a due cori; PALESTRINA: Ave maris stella
Cantus Cölln, Concerto Palatino, Konrad Junghanel (conductor)
Harmonia Mundi HMC 902001 (CD)
A Spotless Rose
TAVENER: A Hymn to the Mother of God; JOSQUIN: Ave Maria, virgo serena; STRAVINSKY: Ave Maria; SWAYNE: Magnificat I; MOUTON: Nesciens Mater; ANON: Ther is no rose of swych vertu; HOWELLS: A Spotless Rose; ADES: The Fayrfax Carol; PALESTRINA: Stabat Mater; MACMILLAN: Seinte Mari Moder Milde; GRIEG: Ave Maris Stella; BAX: Mater ora filium; GORECKI: Totus tuus
Gabrieli Consort, Paul McCreesh (conductor)
Deutsche Grammophon 447 7635 (CD)
GORECKI: Symphony No. 3, Op. 36 'Symphony of Sorrowful Songs'
Christine Brewer (soprano), Atlanta Symphony Orchestra, Donald Runnicles (conductor)
Telarc CD-80699 (CD)
10.55 am New Releases
Hilary Finch talks us through some recent releases of chamber music. With extracts from the following discs:
BRAHMS: String Quartet Op. 51, No 1; Piano Quintet Op. 34
Arcanto Quartet, Silke Avenhaus (piano)
Harmonia Mundi HMC 902000 (CD)
JANACEK: String Quartet No. 1 'The Kreutzer Sonata'; String Quartet No. 2 'Intimate Letters'; MARTINU: Three Madrigals for Violin and Viola H. 313
Emerson Quartet
Deutsche Grammophon 477 8093 (CD)
IMOGEN HOLST: Phantasy Quartet; Duo for viola and piano; String Trio No. 1; The Fall of the Leaf; Sonata for violin and cello; String Quintet
Court Lane Music
Court Lane Music CLM 37601 (CD, Mid Price)
NIELS GADE: Violin Sonata No. 3 in B Flat Major Op. 59; Violin Sonata No. 2 in D Minor Op. 21; Violin Sonata No.1 in A Major Op. 6
Christina Astrand (violin), Per Salo (piano)
DaCapo 8.226066 (CD)
11.35 am Disc of the Week
HANDEL: Clori, Tirsi e Fileno (Cor fedele, in vano speri) HWV 96 [Vol 5 of Italian Cantatas]
Roberta Invernizzi (soprano), Yetzabel Arias Fernandez (soprano), Romina Basso (alto), La Risonanza, Fabio Bonizzoni (harpsichord & director)
Glossa GCD 921525 (CD)
Last on