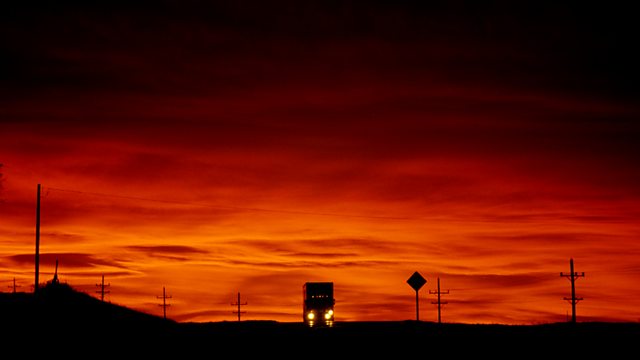 Jonathan Swain
With Jonathan Swain.
1.00am
Schumann, Robert (1810-1856): Quintet in E flat for piano and strings, Op 44
Atle Sponberg (violin)
Nash Ensemble:
Marianne Thorsen (violin)
Lawrence Power (viola)
Paul Watkins (cello)
Ian Brown (piano)
1.33am
Brahms, Johannes (1833-1897): Quartet No 3 in C minor for piano and strings, Op 60
Stig Nilsson (violin)
Anders Nilsson (viola)
Romain Garioud (cello)
Havard Gimse (piano)
2.09am
Bruckner, Anton (1824-1896): Symphony No 3 in D minor
Slovenian Radio and Television Symphony Orchestra
Samo Hubad (conductor)
3.00am
Tallis, Thomas (c.1505-1585): Loquebantur variis linguis for seven voices
BBC Singers
Bo Holten (director)
3.06am
Bach, Johann Sebastian (1685-1750): Keyboard Sonata in, BWV964
Wolfgang Gluxam (harpsichord)
3.27am
Handel, Georg Frideric (1685-1759): Organ Concerto No 1, HWV289
Concerto Copenhagen
Lars Ulrik Mortensen (organ/director)
3.43am
Escher, Rudolf (1912-1980): Le tombeau de Ravel
Jacques Zoon (flute)
Bart Schneeman (oboe)
Ronald Hoogeveen (violin)
Zoltan Benyacs (viola)
Dmitri Ferschtman (cello)
Glen Wilson (harpsichord)
4.09am
Ravel, Maurice (1875-1937): Cinq melodies populaires grecques
Catherine Robbin (mezzo-soprano)
Andre Laplante (piano)
4.17am
Debussy, Claude (1862-1918), orch. Brewaeys: Preludes, Book 1 (recomposition for symphony orchestra, dedicated to Jan Michiels and commissioned by the Royal Flemish Philharmonic)
Royal Flemish Philharmonic
Daniele Callegari (conductor)
5.00am
Bovicelli, Giovanni Battista (c.1550-c.1597): Diminutionen on Palestrina's Io son ferito for cornet and bass continuo
Le Concert Brise
5.07am
Gorczycki, Grzegorz Gerwazy (c.1665-1734): In manus tuas; Te lucis ante; Qui habitat
Olga Pasiecznik (soprano)
Piotr Lykowski (countertenor)
Wojciech Parchem (tenor)
Miroslaw Borzynski (bass)
Sine Nomine Chamber Choir
Concerto Polacco
Marek Toporowski (chamber organ/director)
5.16am
Wassenaer, Unico Wilhelm van (1692-1766): Concerto No 1 in G (Sei Concerti Armonici)
Combattimento Consort Amsterdam
Jan Willem de Vriend (conductor)
5.28am
Haydn, Joseph (1732-1809): Keyboard Sonata in G, H XVI 39
Andreas Staier (fortepiano)
5.42am
Tchaikovsky, Pyotr Il'yich (1840-1893): Fatum, Op 77 - fantasy for orchestra
BBC Philharmonic
Vassily Sinaisky (conductor)
5.59am
Liszt, Franz (1811-1886): Etude No 4 in D minor (Mazeppa) (12 Etudes d'execution transcendante)
Emil von Sauer (piano)
6.07am
Liszt, Franz (1811-1886): Mazeppa - symphonic poem
Lithuanian National Symphony Orchestra
Juozas Domarkas (conductor)
6.23am
Swider, Jozef (b.1930): Piesn; Moja piosnka
Polish Radio Choir
Wlodzimierz Siedlik (conductor)
6.31am
Parac, Ivo (1890-1954): Pastorale
Ljerka Ocic (organ)
6.39am
Skerjanc, Lucijan Marija (1900-1973): Concerto for harp and orchestra
Mojca Zlobko Vaigl (harp)
Slovenian Radio and Television Symphony Orchestra
David de Villiers (conductor)
6.56am
Handel, Georg Frideric (1685-1759): The Arrival of the Queen of Sheba (Solomon, HWV67)
Ars Barocca.
Last on