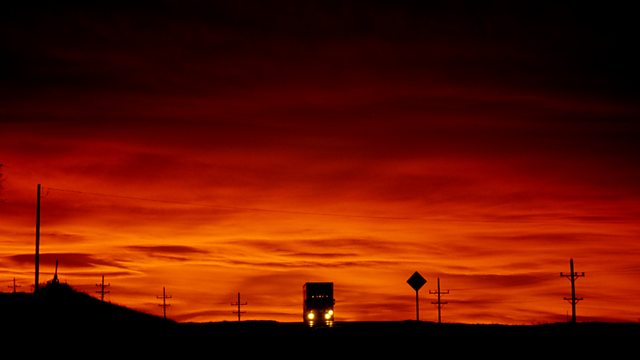 Jonathan Swain
With Jonathan Swain.
1.00am
Rachmaninov, Sergei (1873-1943): Elegie in E flat minor for piano, Op 3 No 1
1.06am
Constantinescu, Paul (1909-1963): Toccata
1.11am
Chopin, Fryderyk (1810-1849): Mazurka in B flat, Op 17 No 1
1.14am
Brahms, Johannes (1833-1897): Seven Fantasies, Op 116
1.35am
Schumann, Clara (1819-1896): Soirees musicales, Op 6
1.44am
Scriabin, Alexander (1872-1915): Three Studies, Op 65
1.51am
Schumann, Robert (1810-1856): Fantasy in C, Op 17
Mihaela Ursuleasa (piano)
2.23am
Debussy, Claude (1862-1918): Images for orchestra
Norwegian Radio Orchestra
Ion Marin (conductor)
3.00am
Bach, Johann Christoph (1642-1703): Meine Freundin, du bist schon
Maria Zedelius (soprano)
David Cordier (alto)
Paul Elliott (tenor)
Michael Schopper (bass)
Rheinische Kantorei
Musica Antiqua Koln
Reinhard Goebel (director)
3.23am
Bach, Johann Sebastian (1685-1750): Sonata No 1 in G minor, BWV1001
Sigiswald Kuijken (violin)
3.39am
Bach, Wilhelm Friedemann (1710-1784): Sinfonia in F, F67
Akademie fur Alte Musik Berlin
Stephan Mai (director)
3.52am
Buffardin, Pierre-Gabriel (c.1690-1768): Concerto in E minor for flute and strings
Ernst-Burghard Hilse (flute)
Akademie fur Alte Musik Berlin
Stephan Mai (director)
4.04am
Weill, Kurt (1900-1950): Kleine Dreigroschenmusik for wind (excerpts)
Winds of the Flemish Radio Orchestra
Jan Latham-Koenig (conductor)
4.13am
Mackeben, Theo (1897-1953), lyrics: Gesell, Michael: Eine Frau wird erst schon durch die Liebe (film score to Heimat)
Spoliansky, Mischa (1898-1985), lyrics: Gilbert, Robert: Leben ohne Liebe (film score to Nie wieder Liebe)
Dostal, Nico (1895-1981), lyrics: Balz, Bruno: Sagt dir eine schone Frau, Vielleicht (film score to Das Lied der Wuste, 1939)
Jean Stilwell (mezzo-soprano)
Robert Kortgaard (piano)
Marie Berard (violin)
James Spragg (trumpet)
Andy Morris (percussion)
Peter Tiefenbach (conductor)
4.23am
Auric, Georges (1899-1983), arr. Lane, Philip: Suite (film score to The Lavender Hill Mob)
BBC Philharmonic
Rumon Gamba (conductor)
4.31am
Poulenc, Francis (1899-1963): Petites voix
Maitrise de Radio France
Denis Dupays (director)
4.37am
Ibert, Jacques (1890-1962): Trio for violin, cello and harp
Andras Ligeti (violin)
Idilko Radi (cello)
Eva Maros (harp)
4.53am
Chabrier, Emmanuel (1841-1894): Espana - rhapsody
Sydney Symphony Orchestra
Stuart Challender (conductor)
5.00am
Rossini, Gioachino (1792-1868): Overture (The Silken Ladder)
BBC National Orchestra of Wales
James Clark (conductor)
5.07am
Corelli, Arcangelo (1653-1713): Sonate da chiesa in B flat, Op 1 No 5
London Baroque
5.14am
Donizetti, Gaetano (1797-1848): Sinfonia in G minor for wind instruments
Bratislavska Komorna Harmonia
5.21am
Cazzati, Maurizio (1616-1678): Alemana detta la Ghisalardi; Giga detta la Bargelina (Capricci per camera e per chiesa, 1639); Ballo delle ombre (Trattenimenti per camera - Bologna, 1660)
Daedalus
Roberto Festa (recorder/director)
5.32am
Finger, Gottfried (c.1660-1730): Sonata in G for recorder and harpsichord
Antoni Sawicz (recorder)
Robert Grac (harpsichord)
5.37am
Dussek, Jan Ladislav (1760-1812): Piano Sonata in G, Op 35 No 2
Andreas Staier (fortepiano)
5.52am
Schubert, Franz (1797-1828): Eine Leichenfantasie, D7
Christoph Pregardien (tenor)
Andreas Staier (fortepiano)
6.12am
Tavener, John (b.1944): Funeral Ikos (The Greek funeral sentences) for chorus
Norwegian Soloists' Choir
Grete Pedersen Helgerod (conductor)
6.18am
Stravinsky, Igor (1882-1971): Eight Instrumental Miniatures for 15 instruments
Canadian Chamber Ensemble
Raffi Armenian (conductor)
6.27am
Dvorak, Antonin (1841-1904): Slavonic Dance No 10 in E minor, Op 72 No 2
James Anagnoson, Leslie Kinton (piano)
6.32am
Suk, Josef (1874-1935): Serenade in E flat for string orchestra, Op 6
Virtuosi di Kuhmo
Peter Csaba (conductor).
Last on