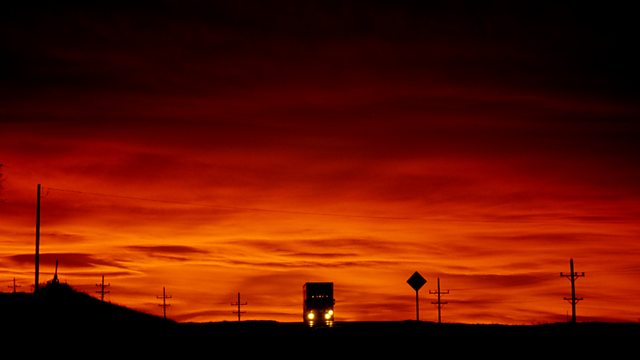 Jonathan Swain
With Jonathan Swain.
1.00am
Rossini, Gioachino (1792-1868): William Tell Overture
1.14am
Haydn, Joseph (1732-1809): Concerto in C for cello and orchestra, H VIIb 1
(with Jean-Guihen Queyras, cello)
1.38am
Elgar, Edward (1857-1934): Symphony No 1 in A flat, Op 55
2.31am
Rossini, Gioachino (1792-1868), orch. Britten: March (Matinees musicales)
Stuttgart Radio Symphony Orchestra
Roger Norrington (conductor)
2.34am
Kraus, Joseph Martin (1756-1792): Sinfonie in D, VB143
Concerto Koln
2.53am
Rossi, Michelangelo (c.1601-1656): Toccata Settina
Leo van Doeselaar (organ)
3.00am
Dvorak, Antonin (1841-1904): Concerto in G minor for piano and orchestra, Op 33
Hans Pette Tangen (piano)
Norwegian Radio Orchestra
Ingar Bergby (conductor)
3.41am
Purcell, Henry (1659-1695): Ode for the birthday of Queen Mary (Come, ye sons of Art, away, Z323)
Anna Mikolajczyk (soprano)
Henning Voss (contralto)
Robert Lawaty (countertenor)
Miroslaw Borczynski (bass)
Sine Nomine Chamber Choir
Concerto Polacco Baroque Orchestra
Marek Toporowski (director)
4.04am
Mozart, Wolfgang Amadeus (1756-1791): Andante in C for flute and orchestra, K315
Anita Szabo (flute)
Hungarian National Philharmonic Orchestra
Zoltan Kocsis (conductor)
4.11am
Hummel, Johann Nepomuk (1778-1837): Concerto in E flat for trumpet and orchestra
Odin Hagen (trumpet)
Norwegian Radio Orchestra
Per Kristian Skalstad (conductor)
4.30am
Debussy, Claude (1862-1918): Ondine (Preludes, Book 2)
Philippe Cassard (piano)
4.33am
Bach, Johann Christoph (1642-1703): Der Gerechte
Cantus Colln
Konrad Junghanel (director)
4.38am
Liszt, Franz (1811-1886): Legende No 1 (St Francois d'Assise prechant aux oiseaux, S175)
Llyr Williams (piano)
4.50am
Vivaldi, Antonio (1678-1741): Concerto in G minor (per l'Orchestra di Dresda), RV577
Cappella Coloniensis
Hans-Martin Linde (conductor)
5.00am
Dvorak, Antonin (1841-1904): Othello, Op 93 - concert overture
Slovak Radio Symphony Orchestra in Bratislava
Robert Stankovsky (conductor)
5.17am
Kraus, Joseph Martin (1756-1792): String Quartet No 2 in B flat
Lysell String Quartet
5.32am
Stanford, Charles Villiers (1852-1924): Eternal Father (Three Motets, Op 135 No 2)
BBC Singers
Stephen Cleobury (conductor)
5.39am
Frescobaldi, Girolamo (1583-1643): Canzon terza a due Canti for cornett, violin, organ and chitarrone (Canzoni da Sonare, Venice 1634)
Musica Fiata Koln
Roland Wilson (director)
5.44am
Stravinsky, Igor (1882-1971): Four Studies for piano, Op 7
Nikita Magaloff (piano)
5.51am
Chausson, Ernest (1855-1899): Chanson perpetuelle
Lena Hoel (soprano)
Bengt-Ake Lundin (piano)
Yggdrasil String Quartet
6.00am
Wagner, Richard (1813-1883): Overture (Tannhauser)
Netherlands Radio Symphony Orchestra
Antoni Ros-Marba (conductor)
6.15am
Mendelssohn, Felix (1809-1847): Symphony No 3 in A minor, Op 56 (Scottish)
Polish Radio Orchestra
Wojciech Rajski (conductor)
6.53am
Beethoven, Ludwig van (1770-1827): Finale (Trio in E flat for violin, cello and piano, Op 1 No 1)
Beaux Arts Trio.
Last on