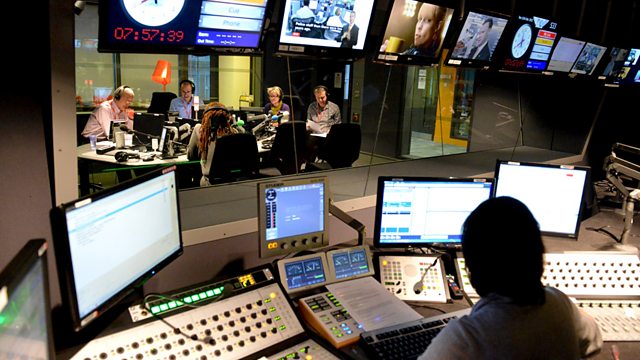 29/04/2009
Presented by Edward Stourton and John Humphrys.
Reporter Matthew Price visits Oaxaca in Mexico where the first fatal case of the disease is believed to have been contracted.
Rory Stewart, of Harvard University, discusses if the UK policy to Afghanistan is likely to echo the new American approach.
America editor Justin Webb examines the success of Barack Obama's first 100 days as US president.
Christopher Graham, director general of the ASA, discusses what caused the increase in complaints over the last year.
Lib Dem leader Nick Clegg and actress Joanna Lumley discuss government decisions about Gurkha veterans.
Hugh Sykes, who first went to Basra six years ago, returns to the city to reflect on the years of conflict.
Thought for the day with the Right Reverend James Jones, Bishop of Liverpool.
Virologist Professor John Oxford discusses how dangerous the swine flu virus could be.
Former US adviser Philip Bobbitt and Lord Ashdown discuss a revised government strategy for the war in Afghanistan.
Classical composers David Stubbs and Gabriel Prokofiev discuss if avant-garde music lacks popular appeal.
Kevin Barron MP, of the Standards and Privileges Committee, discusses the committee's request that no decision should be made on MPs' expenses until Sir Christopher Kelly's report is published.
In an alternate view to either Darwinism or Creationism, Professor Ken Miller, of Brown University, explains the theory of intelligent design.
Science correspondent Tom Feilden considers research which suggests genetics plays a key role in autism.
Something must be done to stop the BBC becoming the only supplier of local news, the head of the media regulator Ofcom says. Chief executive Ed Richards explains why he believes a new way of delivering regional news needs to be established.
Food campaigner Miranda Watson, of Which?, and nutritionist Dr Clare Leonard discuss sugary breakfast cereals.
Flu experts Dr Alan Hay and Dr Richard Coker discuss the risk of a swine flu pandemic.
Last on