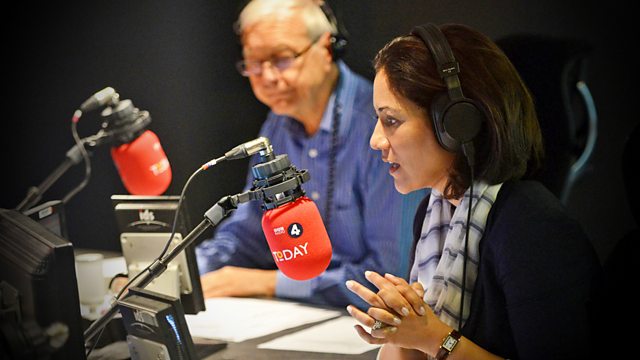 28/04/2009
Presented by Sarah Montague and Edward Stourton.
The Honorary Secretary of the Royal College of GPs, Dr Maureen Baker, discusses the outbreak of the deadly swine flu virus first detected in Mexico.
Catrin Nye reports on an Asian jewellery store in Glasgow which says it has been forced to turn away people wearing Muslim veils because of a robbery.
Health correspondent Jane Dreaper visits the Design Council in Central London to discover how designers are counteracting the MRSA bug.
Norman Smith reports on why Gordon Brown's plan to reform rules on MPs' expenses failed to win support.
Reporter Andy Moore gives details of the seventh violent death of a teenager in London this year.
Inventor Fiona Fairhurst discusses her design for a swimsuit based on a shark skin.
Thought for the day with Dr Indarjit Singh, director of the Network of Sikh Organisations.
Lawyer Sarah Harman discusses how the new rules on family courts will work in practice.
Professor Neil Ferguson, of the WHO, and science writer Vivienne Parry discuss if the swine flu outbreak can be contained.
Authors Michael Morpurgo and Anne Fine discuss their favourite books.
Labour MPs Stuart Bell and Mark Fisher discuss the damage done to Gordon Brown by attempted MPs' expenses reform.
Mike Hulme, of the University of East Anglia, discusses why experts still disagree about how the challenge of global warming should be met.
International development minister Mike Foster discusses if artillery and jet bomber attacks are continuing in north-east Sri Lanka.
Professor Douglas Kell discusses why he believes 100 million pounds should be spent on research into how farmers can produce more food.
Columnist Zoe Williams and blogger Morgan Gallagher, who describes herself as a 'lactivist', discuss if mothers face too much pressure to breastfeed.
Last on