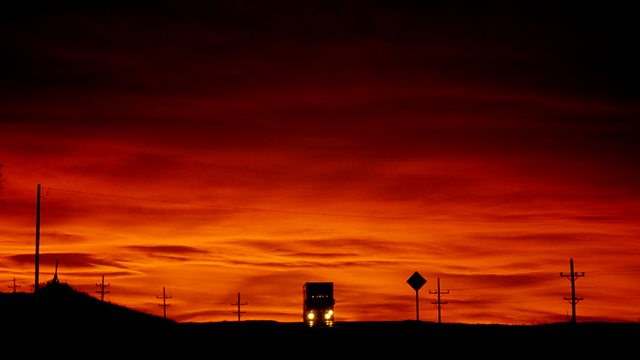 John Shea
With John Shea.
1.00am
Debussy, Claude (1862-1918): Clair de lune (Suite Bergamasque)
1.05am
Vladigerov, Pancho (1899-1978): Suite of Five Pieces, Op 51
1.19am
Schumann, Robert (1810-1856): Kinderszenen, Op 15
1.36am
Liszt, Franz (1811-1886): Mephisto Waltz No 1, S514
Lyuba Encheva (piano)
1.47am
Mendelssohn, Felix (1809-1847): Symphony No 1 in C minor, Op 11
Bergen Philharmonic Orchestra
Andrew Litton (conductor)
2.18am
Schafer, Dirk (1873-1931): Quintet in D flat for piano and strings, Op 5
Orpheus String Quartet
Jacob Bogaart (piano)
3.00am
Rameau, Jean-Philippe (1683-1764): Orchestral Suite (Dardanus)
European Union Baroque Orchestra
Roy Goodman (director)
3.19am
Parry, Charles Hubert Hastings (1848-1918), orch. Jacob: I was glad (Psalm 122)
Vancouver Bach Choir
Vancouver Symphony Orchestra
Bruce Pullan (conductor)
3.25am
Raitio, Vaino (1891-1945): The Swans, Op 15
Finnish Radio Symphony Orchestra
Okko Kamu (conductor)
3.34am
Ravel, Maurice (1875-1937): La valse
Ouellet-Murray Piano Duo
3.46am
Lehar, Franz (1870-1948): Valse Boston: Wer hat die Liebe uns ins Herz gesenkt? (Das Land des Lachelns - Land of Smiles)
Lisa ...... Michelle Boucher (soprano)
Sou-Chong ...... Mark Dubois (tenor)
Kitchener-Waterloo Symphony Orchestra
Raffi Armenian (conductor)
3.51am
Rodgers, Richard (1902-1979): Something Wonderful (The King and I)
Yvonne Kenny (soprano)
Melbourne Symphony Orchestra
Vladimir Kamirski (conductor)
3.55am
Dvorak, Antonin (1841-1904): Allegro moderato; Allegro appassionato (Four Romantic pieces for violin and piano, Op 75, Nos 1 and 3)
Young-Zun Kim (violin)
Joon-Cha Kim (piano)
4.02am
Gilson, Paul (1865-1942): La mer
Flemish Radio Choir
Flemish Radio Orchestra
Brassband Buizingen
Martyn Brabbins (conductor)
4.38am
Anon arr Gregor, Christian (1723-1801): Two Moravian Chorales: Sleepers Wake; Covenant
American Brass Quintet
4.41am
Bach, Johann Sebastian (1685-1750): Improvised chorale harmonisation; Allein Gott in der Hoh' sei Her, BWV675
Handel, George Frideric (1685-1759): Fugue No 3 in B flat (Six Fugues or Voluntarys for organ or harpsichord, 1735)
Stef Tuinstra (organ)
4.50am
Telemann, Georg Philipp (1681-1767): Giovedi, TWV XLII Es2 (Pyrmonter Kurwoche)
Albrecht Rau (violin)
Heinrich Rau (viola)
Clemens Malich (cello)
Wolfgang Hochstein (harpsichord)
5.00am
Borodin, Alexander (1833-1887): Overture (Prince Igor)
Vancouver Symphony Orchestra
Bramwell Tovey (conductor)
5.12am
Dancla, Charles (1817-1907): Variations on a Theme by Bellini, Op 3
Valdis Zarins (violin)
Ieva Zarina (piano)
5.17am
Czerny, Carl (1791-1857): Brilliant polonaise for piano, Op 296 (for six hands)
Kestutis Grybauskas, Vilma Rindzeviciute, Irina Venkus (pianos)
5.31am
Bach, Johann Michael (1648-1694): Auf lasst uns den Herren loben (Come let us praise the Lord) - aria for contralto, violin, three violas da gamba and basso continuo
Ulla Groenewold (contralto)
Musica Antiqua Koln
Reinhard Goebel (conductor)
5.38am
Wassenaer, Unico Wilhelm van (1692-1766): Concerto No 5 in F minor (Sei concerti armonici, 1740)
Combattimento Consort Amsterdam
Jan Willem de Vriend (conductor)
5.48am
Parac, Frano (b.1948): Symphony
Croatian Radio and Television Symphony Orchestra
Niksa Bareza (conductor)
6.06am
Jadin, Hyacinthe (1776-1800): Sonata No 1 in E flat, Op 3
Patrick Cohen (fortepiano)
6.24am
Stradella, Alessandro (1639-1682): Quando mai vi stancherete
Emma Kirkby (soprano)
Alan Wilson (harpsichord)
6.32am
Purcell, Henry (1659-1695): Three Parts upon a Ground for three violins and continuo, Z731
Simon Standage (violin)
Il Tempo
6.37am
Forqueray, Antoine (1672-1745), arr. Jean Baptiste Forqueray: Harpsichord suites (Pieces de clavecin, 1747)
Kati Hamalainen (harpsichord)
6.53am
Porumbescu, Ciprian (1853-1883): Ballad for violin and orchestra
Ion Voicu (violin)
Bucharest Chamber Orchestra
Madalin Voicu (conductor).
Last on