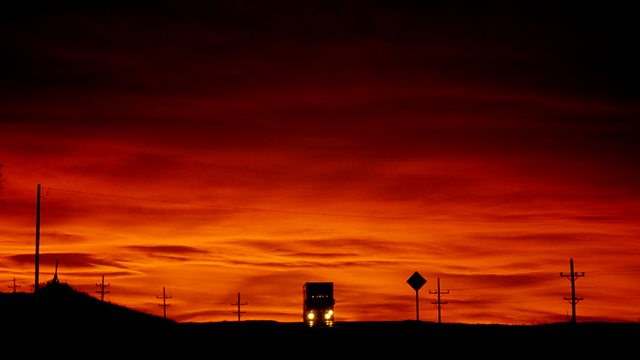 John Shea
With John Shea.
1.00am
Obrecht, Jacob (1457/8-1505): Missa Malheur me bat
1.42am
Anon (15th century); text: Darras: Malheur me bat - chanson for three voices
1.45am
Desprez, Josquin (c.1450/5-1521): Missa Malheur me bat
Tallis Scholars
Peter Phillips (conductor)
2.23am
Nielsen, Carl (1865-1931): Symphony No 6 (Sinfonia semplice)
Danish National Radio Symphony Orchestra
Thomas Dausgaard (conductor)
3.00am
Peeters, Flor (1903-1986): Concerto for organ and orchestra, Op 52
Peter Pieters (organ)
Flemish Radio Orchestra
Yoel Levi (conductor)
3.44am
Grieg, Edvard (1843-1907): Piano Concerto in A minor, Op 16
Rian de Waal (piano)
Anima Eterna
Jos van Immerseel (conductor)
4.13am
Bull, John (c.1562-1628): Why ask you? - for keyboard
Colin Tilney (harpsichord)
4.19am
Crecquillon, Thomas (c.1505/15-1557): Amour partez (Antwerp, 1549)
Huelgas Ensemble
Paul Van Nevel (conductor)
4.24am
Lassus, Orlande de (1532-1594): Paisible domaine - chanson for five voices; Christus resurgens ex mortuis - motet for five voices
The King's Singers
4.28am
Nees, Vic (b.1936): De profundis clamavi (Psalm 130)
Polish Radio Choir
Wlodzimierz Siedlik (conductor)
4.32am
Benoit, Peter (1834-1901): Overture (Charlotte Corday)
Flemish Radio Orchestra
Jan Latham-Koenig (conductor)
4.42am
De Fesch, Willem (1687-1761): Concerto in G, Op 5 No 3
Musica Ad Rhenum
4.50am
Hoof, Jef Van (1886-1959): Symphonic Introduction to a Festive Occasion
Flemish Radio Orchestra
Jan Latham-Koenig (conductor)
5.00am
Moniuszko, Stanislaw (1819-1872): Overture (Verbum Nobile) - opera in one act
Polish Radio Symphony Orchestra
Jerzy Salwarowski (conductor)
5.06am
Chopin, Fryderyk (1810-1849): Mazurka No 31 in A flat, Op 50
Roland Pontinen (piano)
5.10am
Smetana, Bedrich (1824-1884): Vltava (Ma vlast)
Orchestre du Conservatoire de Musique du Quebec
Raffi Armenian (conductor)
5.22am
Janacek, Leos (1854-1928): Vlcistopa (The wolf's trail)
Susse Lillesoe (soprano)
Per Salo (piano)
Danish National Radio Choir
Stefan Parkman (conductor)
5.30am
Biber, Heinrich Ignaz Franz von (1644-1704): Sonata violino solo representativa in A for violin and continuo
5.41am
Baltzar, Thomas (1631-1663): Prelude and Divisions on John come kiss me now (The Division Viol, 1685)
Elizabeth Wallfisch (baroque violin)
Rosanne Hunt (cello)
Linda Kent (harpsichord)
5.46am
Saint-Saens, Camille (1835-1921): Sonata in D for oboe and piano, Op 166
Roger Cole (oboe)
Linda Lee Thomas (piano)
5.58am
Ravel, Maurice (1875-1937): Chansons madecasses for voice, flute, cello and piano
Catherine Robbin (mezzo-soprano)
Nora Shulman (flute)
Thomas Wiebe (cello)
Andre Laplante (piano)
6.12am
Francaix, Jean (1912-1997): Eleven Variations on a Theme by Haydn for nine wind instruments and double bass
Members of the Danish Radio Concert Orchestra
Hannu Koivula (conductor)
6.24am
Haydn, Joseph (1732-1809): Piano Sonata in E minor, H XVI 34
Niklas Sivelov (piano)
6.37am
Weber, Carl Maria von (1786-1826): Clarinet Concerto No 2 in E flat, Op 74
Kari Kriikku (clarinet)
Finnish Radio Symphony Orchestra
Sakari Oramo (conductor).
Last on