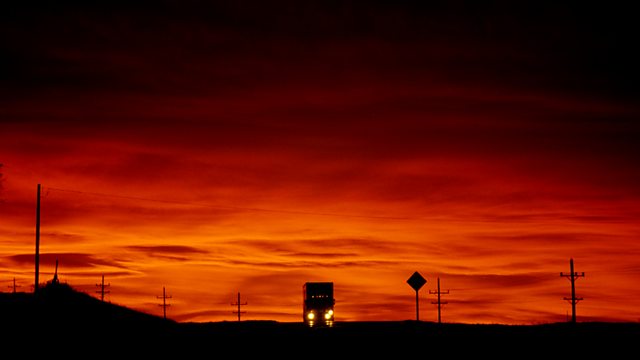 John Shea
With John Shea.
1.00am
Rachmaninov, Sergei (1873-1943): Vespers (All-Night Vigil), Op 37
Annika Hudak (contralto)
Love Enstrom (tenor)
Swedish Radio Choir
Risto Joost (director)
1.57am
Glazunov, Alexander Konstantinovich (1865-1936): Fantasy for organ, Op 110
David Goode (organ)
2.12am
Shostakovich, Dmitry (1906-1975): String Quartet No 7 in F sharp minor, Op 108
Yggdrasil String Quartet
2.6am
Mussorgsky, Modest (1839-1881), orch. Ravel: Pictures at an Exhibition
City of Birmingham Symphony Orchestra
Sakari Oramo (conductor)
3.00am
Handel, Georg Frideric (1685-1759): Trio Sonata in G, Op 5 No 4
Tafelmusik Baroque Soloists
3.15am
Bach, Johann Sebastian (1685-1750): Keyboard Suite in A minor, BWV818a
Wolfgang Gluxam (harpsichord)
3.29am
Bruhns, Nicolaus (1665-1697): Muss nicht der Mensch auf dieser Erden in steten Streite sein - cantata
Greta de Reyghere, Jill Feldman (sopranos)
James Bowman (countertenor)
Guy de Mey, Ian Honeyman (tenors)
Max van Egmond (bass)
Ricercar Consort
3.43am
Brahms, Johannes (1833-1897): Theme with Variations (Sextet in B flat, Op 18)
Wiener Streichsextet
3.53am
Haydn, Joseph (1732-1809): Symphony No 68 in B flat
BBC Scottish Symphony Orchestra
Stefan Solyom (conductor)
4.14am
Duparc, Henri (1848-1933): Extase and Elegie for voice and piano
Catherine Robbin (mezzo-soprano)
Stephen Ralls (piano)
4.21am
Chopin, Fryderyk (1810-1849): Three Polonaises
Kevin Kenner (piano)
4.42am
Szymanowski, Karol (1882-1937), arr. Wilkomirski for orchestra: Variations in B flat minor, Op 3
Polish Radio National Symphony Orchestra in Katowice
Marek Pijarowski (conductor)
4.55am
Couperin, Louis (c.1626-1661): Allemande (arr. for two pianos)
Tor Espen Aspaas, Sveinung Bjelland (pianos)
5.00am
Schmeltzer, Johann Heinrich (c.1620-1680): Sonate VIII for violin, viola da gamba and basso continuo (Duodena selectarum sonatorum, 1659)
CordArte
5.06am
Bach, Johann Sebastian (1685-1750): Prelude (Partita No 3 in E, BWV1006) - arr. for two harps
Myong-Ja Kwan, Hyon-Son La (harps)
5.11am
Bach, Carl Philipp Emanuel (1714-1788): Trio Sonata in B flat for flute, violin and continuo, Wq 161 No 2
Les Coucous Benevoles
5.29am
Anon: Mein junges Leben hat ein End
Barbara Borden (soprano)
Netherlands Chamber Choir
Paul van Nevel (conductor)
5.36am
Sweelinck, Jan Pieterszoon (1562-1621): Variations on Mein Junges Leben hat ein End
Geert Bierling (organ)
5.44am
Dvorak, Antonin (1841-1904): The Water Goblin (Vodnik), Op 107
BBC Philharmonic
Gianandrea Noseda (conductor)
6.05am
Tchaikovsky, Pyotr Il'yich (1840-1893): Tatyana's Letter Scene (Eugene Onegin)
Tatyana ...... Joanne Kolomyjec (soprano)
Calgary Philharmonic Orchestra
Mario Bernardi (conductor)
6.18am
Norman, Ludvig (1831-1885): Five Tonbilder im Zusammenhange, Op 6
Tobias Ringborg (violin)
Anders Kilstrom (piano)
6.36am
Mozart, Wolfgang Amadeus (1756-1791): Concerto in E flat for two pianos and orchestra, K365
Kalle Randalu, Kristjan Randalu (pianos)
Estonian National Symphony Orchestra
Andres Mustonen (conductor).
Last on