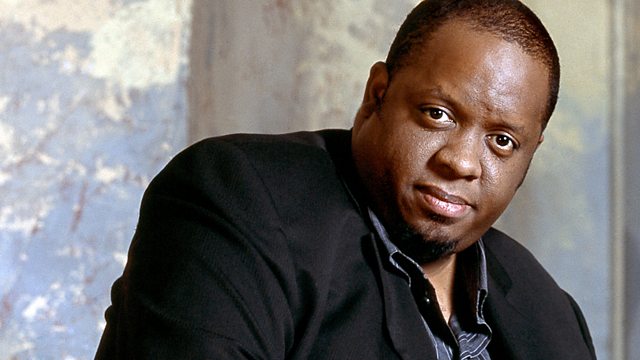 Lea DeLaria/Cheltenham Jazz Festival
To coincide with the 14th Annual Cheltenham Jazz Festival, artistic director Tony Dudley Evans chats with Julian Joseph about the 2009 highlights, including trumpeter Hugh Masekela, guitarist Pat Matino, clarinetist Don Byron and drummer Jack DeJohnette. Also in the studio is vocalist Lea DeLaria who appears at the festival with her cool swing and Broadway approach to jazz.
And as part of Radio 3's Handel celebrations, New Generation Artist Gwilym Simcock gives an improvised piano solo on a theme written by the great composer.
Title: Trinkle Tinkle
Artist: Tony Kofi
CD: Tony Kofi Quartet Plays Monk
Track: 3
Label: Specific SPEC 001
Comp: Thelonious Monk
Pub: n/a
Dur: 05.26
Title: There's No Business Like Show Business
Artist: Sonny Rollins
CD: Irvin Berlin
Track: 1
Label: Prestige
Comp: Irvin Berlin
Pub: Irvin Berlin Music ASCAP
Dur: 06.21
Title: Compultion
Artist: Miles Davis
CD: Miles Davis Collectors Items
Track: 4
Label: Prestige
Comp: Miles Davis
Pub: Hendon Music Inc / o/b/o Second Floor Music Songs of Universal o/b/o Jazz Horn Music Corp-BMI
Dur: 05.47
Title: In Your Own Sweet Way
Artist: Miles Davis
CD: Miles Davis Collectors Items
Track: 7
Label: Prestige
Comp: Dave Brubeck
Pub: Derry Music- BMI
Dur: 04.37
Title: Spring is Here
Artist: John Coltrane
CD: Standard Coltrane
Track: 3
Label: Prestige
Comp: Rogers-Hart
Pub: EMI Robbins Music-BMI
Dur: 06.56
Title: Call Me
Artist: Lea DeLaria
CD: Double Standards
Track: 3
Label: Warner Brothers
Comp: Deborah Harry/Georgio Moroder
Pub: Chrysalis Music/ASCAP/Monster Island
Dur: 03.40
Title: Liberty City
Artist: Jaco Pastorious
CD: The Jaco Pastoruious Anthology
Track: CD 2/2
Label: Warner Brothers/Rhino
Comp: Jaco Pastorious
Pub: Warner Brothers Records
Dur: 10.13.
Last on