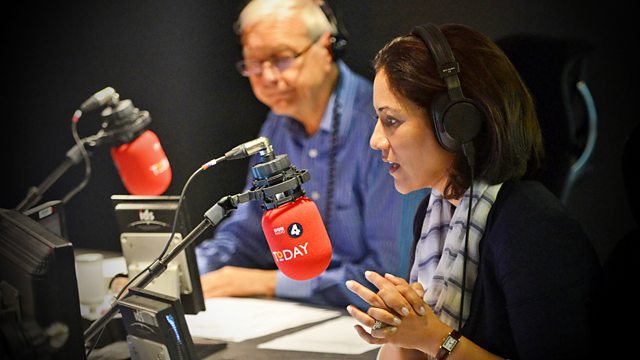 21/04/2009
Presented by James Naughtie and Evan Davis.
Pharmacist David Pruce discusses Orlistat - brand name Alli - the dieting pill aimed at adults with a Body Mass Index of 28 or more.
North America editor Justin Webb explains why former US Vice-President Dick Cheney has called for the release of further documents detailing interrogation techniques used by the CIA.
Steve Garrod, chief examiner for the Driving Instructors Association, discusses the proposed changes to driving tests.
Bob Walker reports on one solider serving in Afghanistan who is blogging to keep people back home up to date.
Britain's bees are disappearing at an unprecedented rate. Sarah Mukherjee talks to Tim Lovett of the British Beekeepers Association and Environment Secretary Hilary Benn discusses why the government announced that two million pounds would be spent on looking at the problem.
The Sun is the dimmest it has been for nearly a century. Professor Mike Lockwood explains why there are no sunspots and very few solar flares.
Thought for the day with Dr Indarjit Singh, director of the network of Sikh organisations.
Reporter Zubeida Malik talks to a British family with roots in the Swat Valley region in Pakistan about a ruling allowing Islamic Law in the region.
Professors Dr Donald Hensrud, Gareth Williams and Nick Bostrom discuss the benefits and drawbacks of anti-obesity pills becoming more readily available.
Former England footballer and presenter of Match of the Day Gary Lineker and Olympic gold medallist Lord Coe discuss how and why veteran sports stars keep on competing.
Correspondent Kevin Connolly examines how police investigate sexual assaults in the US. Expert Richard Garside explains why - according to government estimates - as many as 95per cent of rapes in England and Wales are never reported at all.
Labour MEP Robert Evans discusses the situation in Sri Lanka.
Former football star Lucas Radebe discusses South Africa's preparations to become the first African nation to host the World Cup finals.
Diplomats have walked out of a UN anti-racism conference during a speech by the Iranian president in which he described Israel as "totally racist". Retired diplomat Lord Hannay and Anthony Lerman, of the Institute for Jewish Policy Research, discuss.
Last on