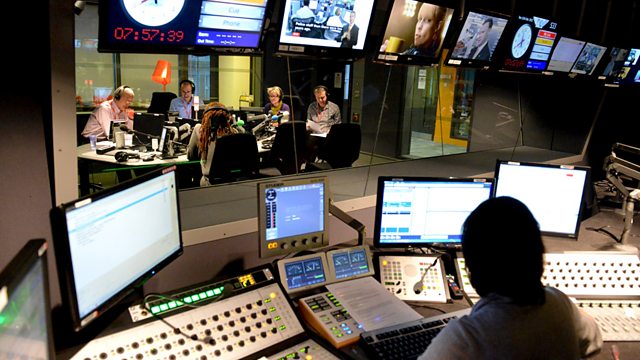 24/04/2009
Presented by Sarah Montague and Edward Stourton.
Lord Taverne and Miles Templeton discuss a new bill aimed at embarrassing senior executives.
Brain expert Baroness Susan Greenfield discusses why are there so few women in the field of science and technology.
Correspondent Jon Kay visits an orchard in the West Country to discover if there is a 'real danger of losing these unique habitats'.
Miriam Rosen, director of education at Ofsted, discusses why 60 per cent of the pupils taking art GCSE are girls.
UN spokesman Gordon Weiss discusses how the UN can help refugees caught up in the fighting between the Tamil Tigers and Sri Lankan government forces.
British businessman Michael Young tells the remarkable story of the secret negotiations between South African figures during apartheid.
Thought for the day with the writer Rhidian Brook.
Pharmaceutical giant Pfizer is investing heavily in stem cell research. Reporter Angus Stickler speaks to Ruth McKernan, of Pfizer, and Professor Pete Coffey discusses what this says about the future of stem cell research.
Conservative leader David Cameron explains what a Tory government would do to fix the nation's finances. Former Tory MP Michael Portillo explains how the political game has changed in recent times.
Journalist Harry Eyres and writer Toby Young discuss if life is better in the slow lane.
Yuri Fedotov, Russia's ambassador in London, discusses if he is confident that a arms deal can be reached between the US and Russia.
Rory Cellan-Jones reports on the work done by The Internet Watch Foundation - an organisation dedicated to blocking abusive images of children on the internet.
Journalist Alec Russell and Peter Hain MP discuss the outcome of the South African elections.
Essex County Council is setting up its own bank to help small businesses. Stephen Castle, a Tory member of the council, discusses why he believes normal banks are not offering firms the correct level of financial support.
Psychologist Joseph Nicolosi and the Reverend Sharon Ferguson, of the Lesbian and Gay Christian Movement, discuss what it means to be gay.
Last on