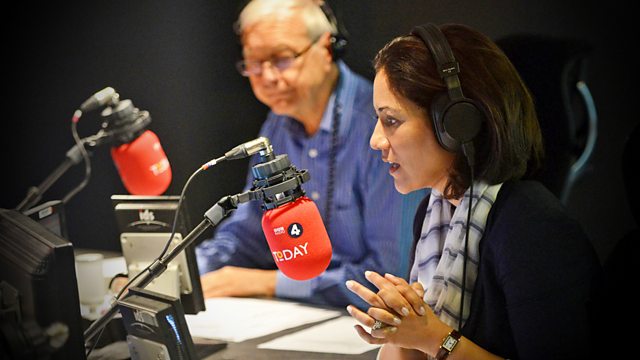 22/04/2009
Presented by John Humphrys and James Naughtie.
Liberal Democrat Treasury spokesman Vince Cable says the budget cannot stand any overall tax cuts.
Correspondent Sanjoy Majumdar gives details about the hijacking of a train in eastern India.
Peter Biles reports on why a high turnout is expected in the South African elections.
Mark Simpson visits Cupar Street in west Belfast to discuss the redecoration of so-called peace walls.
Business editor Robert Peston says the IMF believes the bank bail-out will cost the taxpayer 130 billion pounds.
Nine men questioned in connection with a suspected bomb plot have been handed over to the UK Border Agency. Inayat Bunglawala, of the Muslim Council of Britain, discusses how this decision may be seen by the Islamic community.
Jack Jones, the former general secretary of the Transport and General Workers Union, has died aged 96. Politician Tony Benn remembers "one of the finest men [he] ever met".
Thought for the day with the Right Reverend James Jones, Bishop of Liverpool.
Charu Lata Hogg, of foreign affairs think tank Chatham House, and Lal Wickrematunge, managing editor of Colombo newspaper the Sunday Leader, discuss the chance for a lasting peace in Sri Lanka.
Economist John Wraith and BBC editors Nick Robinson and Stephanie Flanders discuss what will be in the budget.
What happens in the daily life of a hospital chaplain? Reporter Angus Stickler visits Homerton Hospital in east London to find out.
Conservative education spokesman Michael Gove discusses allegations that last year's Sats fiasco was misrepresented by ministers.
Elliot Abrams, of the think-tank the Council on Foreign Relations, says a two-state solution in Palestine is possible.
Cook Tamasin Day-Lewis and Matthew O'Callaghan, of the Melton Mowbray Pork Pie Association, discuss Britain's long love affair with the pie.
A senior official in the White House under George Bush's presidency has made a damaging claim about a memo he wrote warning against torture. North America editor Justin Webb explains the allegations.
Author and astronomer Dr David Whitehouse and Professor Sir David King, of Oxford University, discuss the benefits of space travel.
Rodney Bickerstaffe, former president of the UK National Pensioners' Convention, remembers former union leader Jack Jones, who has died at the age of 96.
Last on