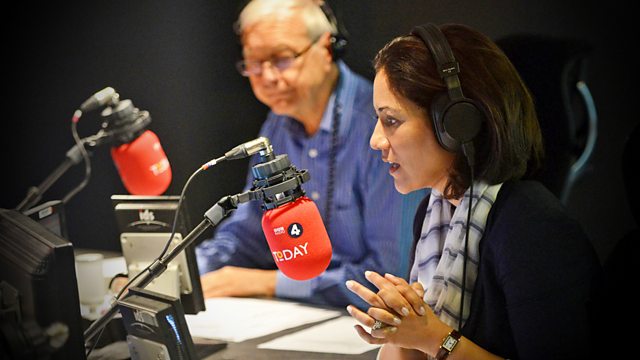 20/04/2009
Presented by James Naughtie and Edward Stourton.
Cult author JG Ballard has died aged 78. The writer Iain Sinclair, a friend and admirer, looks back at Ballard's career.
ACPO president Sir Ken Jones discusses calls for a review of public order policing.
World Affairs Editor John Simpson goes on the trail of Zimbabwe's illegal diamonds.
MP Barry Sheerman and social worker Joanna Nicolas discuss warnings that the state fails to protect children in care.
Political Editor Nick Robinson looks back on an eventful fortnight for the government.
Thought for the day with John Bell, of the Iona community.
Business Editor Robert Peston and the Shadow Business Secretary Ken Clarke discuss the former governor of the Bank of England Lord Eddie George's legacy.
MP David Davis and Chief Superintendent Derek Barnett discuss the calls for a review into policing.
Six members of the Great Britain handball team have found fame with the German team of Essen. Stephen Chittenden went to watch one of their games.
A group of MPs has called for a radical overhaul of the care system in England, in the aftermath of the Baby P case. Education Minister Lady Morgan discusses the suggestions.
Transport Minister Lord Adonis discusses improvements for Britain's railways with Liberal Democrats transport spokesman Norman Baker.
Intensive fostering might be a better alternative to locking up young offenders. Winifred Robinson visits Staffordshire to see one of the projects in action.
Security Correspondent Gordon Correra discusses new details that have been emerging about the use of waterboarding by CIA interrogators.
The unveiling of a statue of comic duo Laurel and Hardy in Laurel's hometown of Ulverston has caused great excitement. But should statues be reserved for soldiers or great political figures? Graham Vincent, from South Lakeland District Council, and military historian Peter Caddick discuss who deserves a statue.
Last on