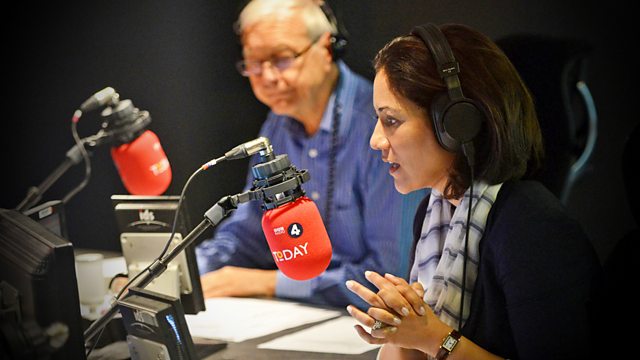 18/04/2009
Presented by Edward Stourton and John Humphrys.
Political scientist Dr Adam Habib discusses the future of South Africa.
Tim Iredale reports on the contest in the Erith and Thamesmead constituency in South East London.
UKIP leader Nigel Farage explains what the party represents and discusses the forthcoming elections.
Archbishop Desmond Tutu explains why he is not looking forward to having ANC leader Jacob Zuma as president of South Africa.
Writer AL Kennedy considers why Britain's Got Talent star Susan Boyle has caught the public's imagination.
Local resident Beth Racine discusses the return of Captain Richard Phillips, the American sea captain held by Somali pirates, to his home of Underhill, Vermont.
Thought for the day with the Reverend Bob Marshall, an Anglican priest.
Former Mayor of London Ken Livingstone discusses the difficulties of policing a protest.
Former president of South Africa FW de Klerk discusses if the country should be worried about the leadership of Jacob Zuma.
Journalists Alice Thompson and Zoe Williams discuss what attributes make for a good consort and how - if at all - the role is affected by gender.
Brendan Pakenham, a volunteer special police constable during the Hillsborough disaster, explains his memories of the tragedy.
John Humphrys reports on the refugees who have made their way from Zimbabwe to South Africa.
Jonathan Parris, of Kings College, London, and Michael Mansfield QC discuss what methods are acceptable during interrogation.
Science correspondent Tom Feilden visits Leeds Carnegie rugby team to discover how science is used in sport.
Journalist Mark Gevisser and political commentator Rhoda Kadalie discuss the South African election.
Last on