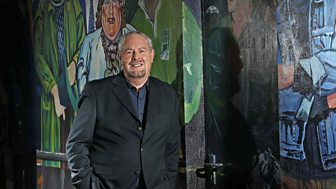 Gerry Kelly
Gerry Kelly livens up the day with music and conversation
Data Protection Information
Any personal information you submit will be held by the BBC and will only be used in relation to your submission, query or message. Your details will not be passed to any third party without your consent. For more information please read the BBC's Privacy & Cookies Policy at www.bbc.co.uk/privacy
Terms And Conditions
Gerry has a competition, Gerry's 60 Seconds. It's a quick fire quiz, with Gerry asking as many questions the contestant can get through in one minute. Questions are on popular culture and two people will take part each week. 

There are 2 points for each correct answer. 1 point deducted for a pass /wrong answer. Three correct answers in a row earn another 2 points. Gerry will go through the answers after the minute is over. 

With 2 contestants per show, the winner will receive a prize and will be invited onto the following weeks show as the reigning champion - and so on until beaten, up to a maximum. People can enter by texting or phoning in. 

1. Entry is open to all UK residents (including Channel Islands and the Isle of Man) who are aged 16 or over, except BBC employees or those of its affiliates and their close relatives or any person connected to the quiz. Proof of age, identity and eligibility may be requested 

2. The quiz will run every Saturday between 12:00 and 13:00 during the Gerry Kelly Show from 22nd May 2010. 

Listeners will be invited to register their interest in taking part in the quiz, following the instructions given out on-air, either: 

• By calling the number: 03030 80 55 55. Standard geographic charges from landlines and mobiles will apply.
• By texting the number: 81771. Texts will be charged at your standard message rate. Check with your network provider for exact costs. 

No other method of mail entry will be accepted. Listeners must obtain the bill-payers permission before calling or texting to register. 

3. Registration is only open during the times announced on-air. Entries received outside these times will not be registered but will still be charged. The opening and closing times may change so please listen to announcements during the show. Only one entry is allowed per listener during each show. 

4. When listeners call to enter, a member of the production team will ask them 3 sample quiz questions and questions about their hobbies and interests to assess their suitability for taking part in the quiz. Listeners who text to enter will be telephoned back by a member of the production team and question the same questions. If the listener is not available after reasonable attempts by the production team, they will lose the opportunity to be assessed for their suitability to take part in the quiz. 

5. Each entrant will also be asked to provide their name, location and a contact telephone number (if the entrant has registered by text, they will be contacted on the mobile phone from which the entry was made). The BBC will only ever use personal details for the purposes of administering this quiz. Please see the BBC's Privacy Policy: www.bbc.co.uk/privacy 

6. From the all entrants who answered the sample quiz questions correctly, the production team will select the entrants who appear most lively, enthusiastic and suitable to play the on-air quiz. 

7. Should they be selected to take part in the on-air quiz, entrants must ensure that they are available on the telephone number provided to take the call from the production team. If an entrant is not available after reasonable attempts by the production team, the next most suitable entrant will be selected. 

8. During the on-air quiz, the contestants will be asked questions in accordance with the instructions given on air by the presenter. 

9. The BBC reserves the right to take any contestant off-air and disqualify them from the quiz at any time if they display offensive, abusive or any other kind of unsuitable behaviour. 

10. There are no prizes for participating in the quiz, but the winner of the quiz each week will receive a DVD of their choice up to a maximum value of £15. The winner may also be invited to take part in the quiz again the following week for up to a maximum of 4 weeks. 

11. The prize is as stated above. There is no cash alternative and the prize cannot be sold or transferred in any circumstances. 

12. Entrants chosen to play on-air are not permitted to re-enter the quiz for 2 months. 

13. Entrants must agree to take part in any post-quiz publicity if required. The names of winners may be made public. 

14. The BBC's decision as to the contestants, winners and prizes awarded is final. No correspondence relating to the quiz will be entered into. 

15. The BBC reserves the right to: 

(i) amend these terms and conditions and vary the quiz opening times; 

(ii) disqualify any entrant who breaches the rules or has acted fraudulently in any way; and ( 

iii) cancel the quiz, at any stage, if in its opinion it is deemed necessary or if circumstances arise outside its control. 

16. The BBC, its sub-contractors, subsidiaries and/or agencies cannot accept any responsibility whatsoever for any technical failure or malfunction or any other problem which may result in any entry being lost or not properly registered. 

17. This quiz accords with the BBC's Code of Conduct for Competitions and Voting, details of which can be found at: www.bbc.co.uk/competitioncode 

18. The promoter of the quiz is the British Broadcasting Corporation and the applicable law is the laws of England and Wales. 

19. Entrants will be deemed to have accepted these rules and to agree to be bound by them when registering