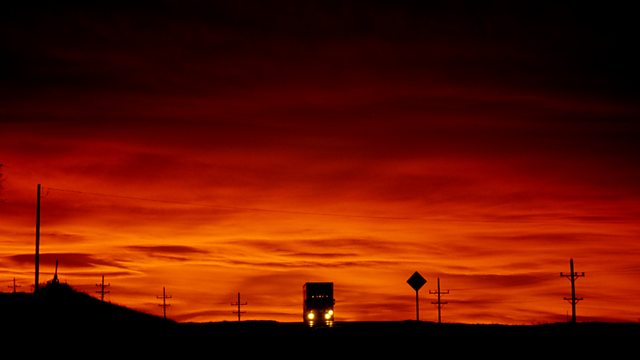 Susan Sharpe
With Susan Sharpe.
1.00am
Tchaikovsky, Pyotr Il'yich (1840-1893): Romeo and Juliet - fantasy overture
1.22am
Tchaikovsky: Variations on a Rococo Theme for cello and orchestra, Op 33
1.41am
Tchaikovsky: Symphony No 4 in F minor, Op 36
Romanian National Radio Orchestra
Alexander Rudin (conductor)
2.23am
Debussy, Claude (1862-1918): Estampes
Hinko Haas (piano)
2.38am
Mozart, Wolfgang Amadeus (1756-1791): Concerto No 1 in B flat for violin and orchestra, K207
Mozart Anniversary Orchestra
James Ehnes (violin/director)
3.00am
Bach, Johann Sebastian (1685-1750): Orchestral Suite No 1 in C, BWV1066
Norwegian Chamber Orchestra
3.21am
Tubin, Eduard (1905-1982): Sonata in the Phrygian Mode for violin and piano
Ulrika Kristian (violin)
Marje Lohuaru (piano)
3.42am
Haydn, Joseph (1732-1809): String Quartet in D, Op 64 No 5 (Lark)
Tilev String Quartet
4.00am
Larsson, Lars-Erik (1908-1986): Pastoral Suite, Op 19
CBC Vancouver Orchestra
Mario Bernardi (conductor)
4.14am
Weckmann, Matthias (1616-1674): Wenn der Herr die Gefangenen zu Zion erlosen wird - concerto for four voices, strings and continuo
Soloists from Rheinsche Kantorei
Musica Alta Ripa
Hermann Max (conductor)
4.24am
Liszt, Franz (1811-1886): Hungarian Rhapsody No 2 in C sharp minor, S244
Jeno Jando (piano)
4.35am
Marson, John (1932-2007): Waltzes and Promenades for two harps
Julia Shaw, Nora Bumanis (harps)
4.48am
Handel, George Frideric (1685-1759): Three Airs from Vauxhall Gardens (arr. Steele-Perkins for trumpet and orchestra)
Crispian Steele-Perkins (trumpet)
The King's Consort
Robert King (director)
5.00am
Geminiani, Francesco (1687-1762): Sonata in D, Op 1 No 1
Pierre Pitzl, Mary Jean Bolli (violas da gamba)
Luciano Contini (archlute)
Augusta Campagne (harpsichord)
5.11am
Lechner, Leonhardt (c.1553-1606): Deutsche Spruche von Leben und Tod
Danish National Radio Choir
Stefan Parkman (conductor)
5.21am
Saint-Saens, Camille (1835-1921): Morceau de concert in G for harp and orchestra, Op 154
Suzanna Klintcharova (harp)
Sofia Philharmonic Orchestra
Dimitar Manolov (conductor)
5.36am
Enna, August (1859-1939): Skitsebogen (Sketch Book)
Ida Cernecka (piano)
5.52am
Vaughan Williams, Ralph (1872-1958): Overture (The Wasps)
BBC Philharmonic
Yan Pascal Tortelier (conductor)
6.01am
Boccherini, Luigi (1743-1805): Quintet No 2 in E flat for two violins, viola and two cellos, G266
Andreia Potroshko (double bass)
Zagreb String Quartet
6.21am
Kraus, Joseph Martin (1756-1792): Symphony in C minor
Concerto Koln
6.42am
Bach, Carl Philipp Emanuel (1714-1788): Sonata in B minor for violin and harpsichord, H512
Les Adieux.
Last on