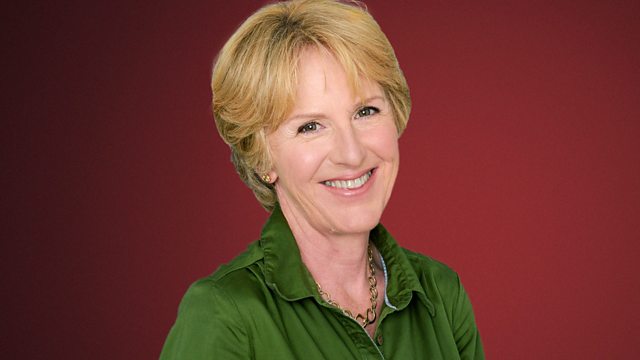 Susan Sharpe
With Susan Sharpe.
1.00am
Daniel, Arnaut (c.1150-c.1200): Deux Chansons: Dohl mot son plan e prim; Lo ferm voler qu'el cor m'intra
1.10am
Born, Bertran de (c.1140-c.1210): Rassa, tan creis e monta e poia
1.24am
Peire D'Alvernhe (fl.1149-1170): Dejosta'ls breus jorns e'ls loncs sers
1.35am
Giraut de Bornelh (c.1140-c.1200): No posc sofrir c'a la dolor
1.49am
Giraut de Bornelh: Si.us quer conselh, bel ami
Folquet de Marseille (c.1155-1231): Tant m'abellis l'amoros pessamens
Aimeric de Peguilhan (c.1175-c.1230): En amor trob alques en que'm refraing
Sequentia Koln:
Barbara Thornton (voice/hurdy-gurdy)
Benjamin Bagby (voice/harp)
Patricia Neely (vihuela)
Rainer Ullreich (vihuela)
2.09am
Gounod, Charles (1818-1893): Overture (Mireille)
Slovak Radio Symphony Orchestra in Bratislava
Oliver von Dohnanyi (conductor)
2.17am
Milhaud, Darius (1892-1974): The Globe-trotter suite, Op 358 - vers for orchestra
CBC Vancouver Orchestra
Mario Bernardi (conductor)
2.35am
Ravel, Maurice (1875-1937): Tzigane - rapsodie de concert for violin and piano
Vineta Sareika (violin)
Ventis Zilberts (piano)
2.46am
Debussy, Claude (1862-1918): Clair de lune (Suite bergamasque) - arr Trayanov for harp, flute, piano and viola
Eolina Quartet
2.51am
Debussy: Premiere rapsodie arr for clarinet and orchestra
Kari Kriikku (clarinet)
Finnish Radio Symphony Orchestra
Jukka-Pekka Saraste (conductor)
3.00am
Franck, Cesar (1822-1890): Symphony in D minor, M48
BBC National Orchestra of Wales
Richard Hickox (conductor)
3.40am
Aulin, Valborg (1860-1928): String Quartet in F
Tale String Quartet
4.06am
Schumann, Robert (1810-1856): Arabeske in C for piano, Op 18
Angela Cheng (piano)
4.13am
Attrib Mozart, Wolfgang Amadeus (1756-1791): Adagio/Allegro in E flat for wind octet, K Anh C XVII 07
The Festival Winds
4.23am
Bach, Carl Philipp Emanuel (1714-1788): Cantata: Heilig, Wq 217
The Netherlands Chamber Choir
Amsterdam Baroque Orchestra
Ton Koopman (conductor)
4.30am
Hellendaal, Pieter (1721-1799): Solo (Sonata) in G for cello and continuo, Op 5, No 1
Jaap ter Linden (cello)
Ton Koopman (harpsichord)
Ageet Zweistra (cello continuo)
4.39am
Sweelinck, Jan Pieterszoon (1562-1621): Timor Domini
Netherlands Chamber Choir
Paul van Nevel (conductor)
4.42am
Benoit, Peter (1834-1901): O Sacrum convivium; Tantum ergo
The Flemish Radio Choir
Joris Verdin (organ)
Jan Busschaert (double bass)
Vic Nees (conductor)
4.47am
De Vocht, Lodewijk (1887-1977): In Exile - symphonic poem
Flemish Radio Orchestra
Jan Latham-Koenig (conductor)
5.00am
Satie, Erik (1866-1925): Je te veux - arr Makoto Goto for two pianos
Pianoduo Kolacny
5.05am
Boufil, Jacques (1783-1868): Grand duo, Op 2, No 1
Alojz Zupan, Andrej Zupan (clarinets)
5.20am
Kodaly, Zoltan (1882-1967): Adagio for viola and piano
Morten Carlsen (viola)
Sergej Osadchuk (piano)
5.30am
O'Carolan, Turlough (1670-1738): Carolan's draught
Salzedo, Carlos (1885-1961): Tango (Two Dances for two harps)
Julia Shaw, Nora Bumanis (harps)
5.34am
Stravinsky, Igor (1882-1971): Concerto in E flat (Dumbarton Oaks) - arr for two pianos
James Anagnoson, Leslie Kinton (pianos)
5.49am
Anon (18th century?): Ktozo tej dobie - for two sopranos, bass, strings and continuo
Concerto Polacco
5.53am
Vivaldi, Antonio (1678-1741): Concerto in C for two trumpets and orchestra, RV 537
Toni Grcar, Stanko Arnold (trumpets)
Slovenian Radio and Television Symphony Orchestra
Marko Munih (conductor)
6.00am
Cavalli, Francesco (1602-1676): Duet: O mio core (Medea and Giasone) - Giasone - Act 1 Scene 11
Giasone ...... Michael Chance (countertenor)
Medea ...... Gloria Banditelli (mezzo-soprano)
Instrumental Ensemble of Concerto Vocale
Rene Jacobs (conductor)
6.02am
Verdi, Giuseppe (1813-1901): Duet: Tardo per gli anni, e tremulo (Attila and Ezio) - Prologue to Attila
Attila ...... Nicola Ghiuselev (bass)
Ezio ...... Vladimir Stoyanov (baritone)
Sofia Symphony Orchestra
Boris Hinchev (conductor)
6.09am
Martinu, Bohuslav (1890-1959): Three Madrigals for violin and viola
Andrej Kursakov (violin)
Mikhail Tolpygo (viola)
6.25am
Biber, Karl Heinrich (1681-1749): Sonata a 3 ex E terz minore for two violins and basso continuo
Salzburger Hofmusik
6.27am
Sterkel, Franz Xaver (1750-1817): Duet No 3 for two violas
Milan Telecky, Zuzana Jarabakova (violas)
6.35am
Lotti, Antonio (1666-1740): Sonata in F for two oboes, bassoon and continuo (Echo Sonata)
Zefiro
6.45am
Mozart, Wolfgang Amadeus (1756-1791): Duet: Bei Mannern (Die Zauberflote)
Isabel Bayrakdarian (soprano)
Russell Braun (baritone)
Canadian Opera Company Orchestra
Richard Bradshaw (conductor)
6.49am
Handel, Georg Frideric (1685-1759): Sonata in G minor for two violins and continuo, HWV 390a
Musica Alta Ripa.
Last on