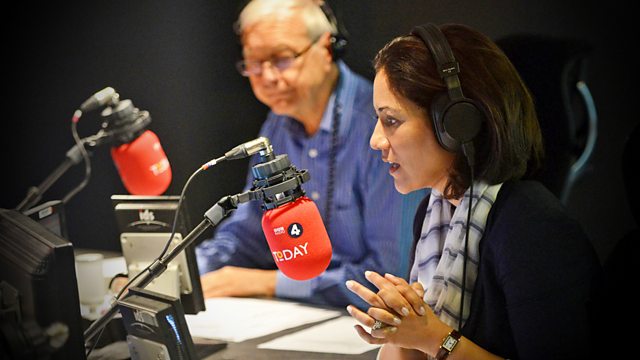 14/04/2009
Presented by Evan Davis and James Naughtie.
Jonathan Baume, general secretary of the FDA (the union representing senior civil servants) says there is no need to tighten the rules on special advisers.
Rajesh Mirchandani reports on the conviction of US music producer Phil Spector for murder.
Michael Voss reports on the lifting of some restrictions placed on Cuba by the US.
Bob Andrews, of Eastside Climate Action, and David Porter, of the Association of Electricity Producers, discuss if coal power can be replaced with renewable energy.
Sir John Holmes, the UN Under-Secretary-General for Humanitarian Affairs, explains whether the conflict in Sri Lanka is drawing to an end.
Writer and broadcaster Armando Iannucci discusses the coincidence of life imitating his art.
Thought for the day with Dr Indarjit Singh, director of the Network of Sikh Organisations.
Former Thai minister Mechai Viravaidya discusses the repercussions of anti-government protesters surrounding official buildings in Bangkok.
Labour MP Paul Flynn and broadcaster Andrew Neil discuss the media's coverage of the Labour Party slur e-mail affair.
Author Mick Brown discusses the legacy of US music producer Phil Spector, famous for the "Wall of Sound" recording technique.
Passenger Gerald Granston and author Max Morgan-Witts discuss the extraordinary voyage of the SS St Louis.
Religious affairs correspondent Christopher Landau has been following Tony Blair during the first year of his interfaith foundation.
Foreign Office minister Bill Rammell explains why he is urging caution for people wanting to travel to Thailand.
Evan Davis visits his old school - the Ashcombe School in Dorking, Surrey - to talk to the headteacher David Blow about how he is preparing for spending cuts.
Professor Mark Pepys details the research into the cure for Alzheimer's disease.
Is it immoral to send your children to private school? MP Barry Sheerman and headmaster Anthony Seldon discuss if public figures should uphold a "moral duty" to educate their children in state schools.
Last on