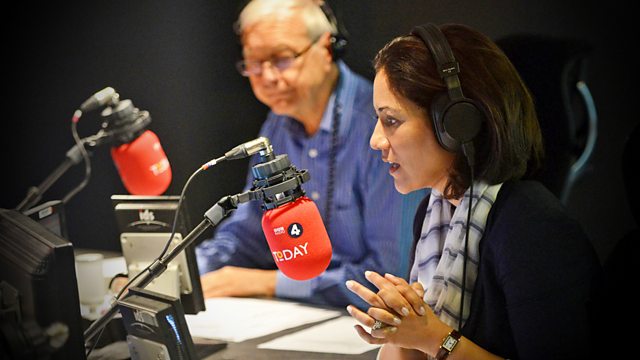 11/04/2009
Presented by John Humphrys and James Naughtie.
Huw Williams reports on the discovery that the helicopter crash which killed 16 people in the North Sea was caused by what is described as a 'catastrophic gearbox failure'.
Political correspondent Ross Hawkins discusses accusations of a smear campaign against the Tories by the Labour Party.
French marines stormed a yacht captured by Somali pirates, freeing four of the five hostages; the fifth hostage was killed during the operation. Emma Jane Kirby reports.
Kevin Connolly reports on the efforts to help a US captain taken hostage by Somali pirates.
Alex Bushill reports from Cornwall on the calls for more government help for people to find jobs.
Shadow Home Secretary Chris Grayling discusses the speech from radical Imam Anwar al-Awlaki in a pre-recorded video message to an audience in a taxpayer-funded East London community centre.
London is attempting to tackle its pigeon problem with the help of a new birdman. Reporter Nicola Stanbridge meets Gary Railton and his Harris Hawk, George.
Thought for the day with the Reverend Bob Marshall, an Anglican priest.
Jack Izzard reports on the conflict in Sri Lanka between the government and the Tamil Tigers.
Bob Crow, of the union RMT, and Chris Allen, health and safety director of Oil and Gas UK, discuss the helicopter crash in the North Sea crash which killed 16 people.
Journalist Tom Service and the chief executive of Youth Music Christina Coker discuss why more young people should get involved in classical music.
French MP Herve Mariton and Dr Lee Willett discuss the kidnap and death of a French sailor by Somali pirates.
Correspondent Ross Hawkins and Paul Staines, who is better known as blogger Guido Fawkes, discuss what is contained in the controversial emails sent by Damian McBride, an aide of the Prime Minister.
Former Home Office minister Fiona Mactaggart and Liberal Democrat peer Lord Carlile discuss if the police force is no longer properly accountable.
Political writer Peter Oborne and cricket writer David Frith discuss the decision by the MCC to relax regulations on attire at Lord's Cricket Ground during the Twenty20 World Cup to allow fancy dress.
The Crown Prosecution Service is paying a 250 pound bonus to staff who made it in to work in London on the first day of the heavy snow in February. Mark Wallace, of the Taxpayers Alliance, discusses the bonuses.
Last on
So you think you know the Today programme?