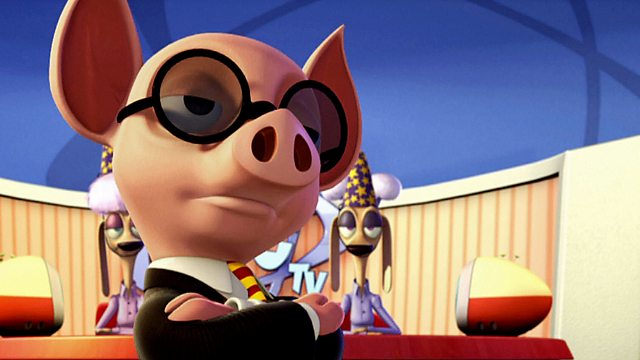 A 3D CGI animated comedy series for six- to 11-year-olds with two piggy brothers causing havoc in TV land. Pinky and Perky are a pair of piglets who are given their big break in showbiz: their own live children's television show full of crazy stunts, mad games, wild cartoons and top celebrity guests.
Their show is loud, messy, funny and frequently out of control, which makes it unpopular with the old guard of the TV station. One way or another, they're going to get those pesky pigs off the air.
Pinky and Perky were up all night playing computer games and they are exhausted. Struggling to keep their eyes open, and convinced the car is a games console, they set off on a perilous journey to the TV studio, with several near misses en route. When they arrive, they can barely stay awake, but the show must go on.
Unfortunately, KT has organised the biggest, most energetic show yet, with a series of world record-breaking challenges for Pinky and Perky to attempt. Just as it looks as if everything's about to go horribly wrong, the dozy duo wake up. Pinky watches his favourite cartoon, Perky plays the best computer game ever, and they even manage to set a new world record in the process.
Last on