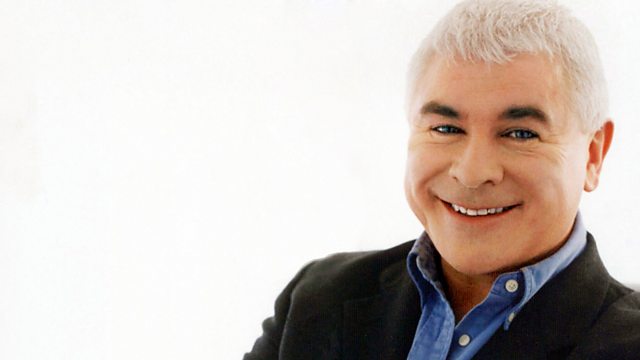 07/04/2009 Roberto Alagna and BBC Music Magazine Awards
Sean Rafferty presents a selection of music and guests from the arts world.
Celebrated tenor Roberto Alagna and soprano Sondra Radvonovsky join Sean in the studio to talk about their roles in the Royal Opera House's production of Verdi's Il Trovatore.
And Jean-Efflam Bavouzet and Heiner Goebbels - themselves nominees - are joined by judge Oliver Condy to discuss the results of the 2009 BBC Music Magazine awards.
17:02
VERDI
Il Trovatore (Act III, Di quella pira)
Roberto Alagna (Manrico)
Angela Gheorghiu (Leonora)
London Symphony Orchestra
Antonio Pappano (conductor)
EMI CDS557360 2
CD 2 TR 11
3.09
17:06
DEBUSSY
Deux Arabesques
Jean-Efflam Bavouzet (piano)
CHAN 10467
TR 7-8
7.05
17:20
GOEBBELS
Landschaft mit entfernten (The Sirens & Ove è dunque)
David Bennett (voice)
Georg Nigl (baritone)
German Chamber Choir
Ensemble Modern
Franck Ollu (conductor)
ECM 476 583 8
TR 3-4
5'02
17:31
MOZART
Symphony No 4 in G minor, K550 (4th movement: Allegro assai)
Scottish Chamber Orchestra
Charles Mackerras (conductor)
Linn CKD 308
CD 2 TR 4
9.15
17:41
ALBENIZ arr Gaspar Cassado
Celebre Serenata Espagnola
Alban Gerhardt (cello)
Rina Dokshinsky (piano)
EMI 5 73164 2
TR 8
3.40
17:46
TELEMANN
Concerto in D, TWV 43:D1
John Holloway (violin)
Linde Brunmayr (transverse flute)
Lorenz Duftschmid (viola da gamba)
Ulrike Becker (cello)
Lars-Ulrik Mortensen (harpsichord)
CPO 777 375 2
TR 1-3
10.20
17:57
SCHUMANN
Liederkreis (Zwielicht)
Christian Gerhaher (baritone)
Gerold Huber (piano)
RCA Red Seal 88697168172
Tr10
3'35
18:03
BERNSTEIN
Overture: Candide
Bournemoth Symphony Orchestra
Andrew Litton (conductor)
VC 7 91433-2
TR 1
4.05
18:08
SCHUBERT
Quartettsatz in C minor, D703
Takacs Quartet
Decca 436324 2
TR 5
8.35
18:17
VERDI
Il Trovatore (Ascolta! Tacea la notte placida, Act I)
Angela Gheorghiu (Leonora)
London Symphony Orchestra
Antonio Pappano (conductor)
EMI CDS557360 2
CD 1 TR 6
3.44
18:28
VERDI
Il Trovatore (As si, ben mio, coll'essere io tuo, Act III)
Roberto Alagna (Manrico)
London Symphony Orchestra
Antonio Pappano (conductor)
EMI CDS557360 1
CD 2 TR 8
3.19
18:37
VERDI
Il Trovatore (Che! Non m'inganna quel fioco lume?)
Roberto Alagna (Manrico)
Angela Gheorghiu (Leonora)
Larissa Diadkova (Azucena)
Thomas Hampson (Count)
London Symphony Orchestra
Antonio Pappano (conductor)
EMI CDS557360 2
CD 2 TR 23-28
9.08
18:49
BRAHMS
Four Ballades (No.2)
Daniel Barenboim (piano)
WCJ 2564 69565-8
Tr 2
5'58
18:55
SCHUTZ
Psalm 100
The Cambridge Singers
John Rutter (conductor)
COL CD 134
Tr18
4'17
Last on