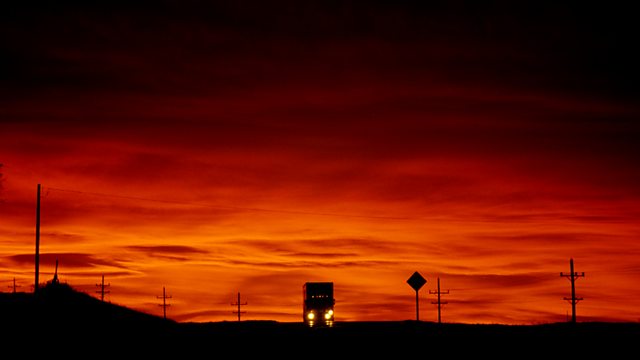 Jonathan Swain
With Jonathan Swain.
1.00am
Monteverdi, Claudio (1567-1643): Volgendo il ciel - ballo for five voices; Lamento d'Arianna (Lasciatemi morire) for five voices and bass clarinet; Il ballo delle ingrate - dramatic madrigal for voices, five viols and bass clarinet
I Fagiolini
Barroksolistene
Robert Hollingsworth (director)
1.58am
Bach, Carl Philipp Emanuel (1714-1788): Sonata in E flat for flute/recorder and keyboard, BWV1031 - orig. attrib. JS Bach
Sonora Hungarica Consort
2.10am
Beethoven, Ludwig van (1770-1827): Symphony No 3 in E flat, Op 55 (Eroica)
Danish Radio Sinfonietta/DR
Rolf Gupta (conductor)
3.00am
Bach, Johann Sebastian (1685-1750): Sonata in A for transverse flute, BWV1032
Bart Kuijken (flute)
Gustav Leonhardt (harpsichord)
3.15am
Grieg, Edvard (1843-1907): Lyric Pieces (selection)
Leif Ove Andsnes (piano)
3.38am
Shostakovich, Dmitri (1906-1975): Chamber Symphony in C minor for strings, Op110a - arr. Barshai from String Quartet No 8
Sofia Soloists Chamber Ensemble
Plamen Djourov (conductor)
4.01am
Saint-Saens, Camille (1835-1921): Prelude and Fugue in C, Op 109 No 3
David Drury (organ)
4.11am
Mendelssohn, Felix (1809-1847): Psalm 22, Op 78 No 3
Radio France Chorus
Donald Palumbo (conductor)
4.21am
Mozart, Wolfgang Amadeus (1756-1791): Piano Sonata in C, K545
Young-Lan Han (piano)
4.31am
Glazunov, Alexander Konstantinovich (1865-1936): Lyric Poem in D flat for orchestra, Op 12
West Australian Symphony Orchestra
Vladimir Verbitsky (conductor)
4.42am
Escosa, John B (1928-1991): Three Dances for two harps
Julia Shaw, Nora Bumanis (harps)
4.49am
Albinoni, Tomaso (1671-1751): Concerto for two oboes, strings and basso continuo, Op 9 No 9
European Union Baroque Orchestra
Roy Goodman (director)
5.00am
Brahms, Johannes (1833-1897): Tragic Overture, Op 81
European Union Youth Orchestra
Colin Davis (conductor)
5.15am
Poulenc, Francis (1899-1963): Sonata for oboe and piano
Roger Cole (oboe)
Linda Lee Thomas (piano)
5.29am
Haydn, Joseph (1732-1809): Trio in G for keyboard and strings, H XV 25 (Gypsy Rondo)
Grieg Trio
5.44am
Larsson, Lars-Erik (1908-1986): Songs of the naked trees, Op 7
Swedish Radio Choir (mens' voices only)
Gote Widlund (conductor)
5.59am
Mozart, Wolfgang Amadeus (1756-1791): String Quartet in G, K387
Orford String Quartet
6.30am
Elgar, Edward (1857-1934): Variations on an Original Theme for orchestra, Op 36 (Enigma Variations)
BBC Philharmonic
Yan Pascal Tortelier (conductor).
Last on