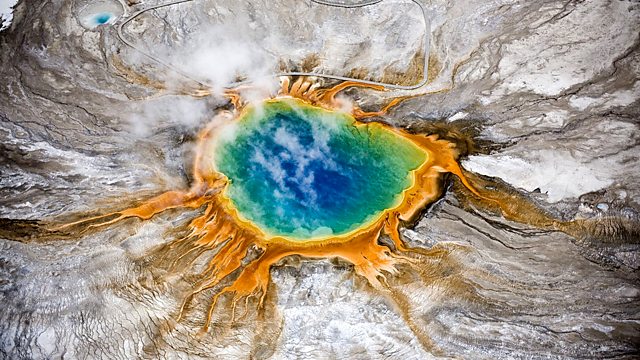 Series following the fortunes of America's wildlife icons in Yellowstone, the most extensive thermal area on Earth.
Summer. As the spring melts the winter snow, the full extent of Yellowstone is gradually revealed. Now, from the surrounding lowlands herds of elk, pronghorn and bison return from their winter feeding grounds to take advantage of America's richest natural grasslands - right in the heart of Yellowstone. In only a few weeks, a brutally harsh deep freeze has been transformed into a flower-decked nursery perfect for the year's newborn animals. There is also a new cast of characters that emerge bleary-eyed from hibernation as grizzly bears begin to teach their young the secrets of survival in Yellowstone - how to hunt fish in the still-frozen rivers and, as the season progresses, when to move out through valleys and grasslands into summer forests and up into Yellowstone's alpine peaks. In this spectacular wilderness, over 10,000ft high, they slide and scrabble, hunting millions of tiny moths buried under rocks on the barren slopes.
But summer here is fickle, even on Midsummer's Day, winter can descend from the surrounding mountains bringing punishing snows to fragile flower meadows. August is the only month in the year when it does not snow, but then, just as it seems the easy living of summer has finally arrived, it is brought to an abrupt end as fires sweep through the forest, laying Yellowstone to waste.
Last on
Credits
| Role | Contributor |
| --- | --- |
| Presenter | Peter Firth |
| Participant | Mary Beth Schwarz |
| Participant | Roland L Bowell |
| Participant | Barbara Lasseter |
| Participant | Jill Scahttel |
| Participant | John Scahttel |
| Participant | Cynthia Barwin |
| Participant | Nick Stanzak |
Buy online
Buy online
Available on: DVD, Blu-ray or Video download
From suppliers including: BBC Shop, iTunes