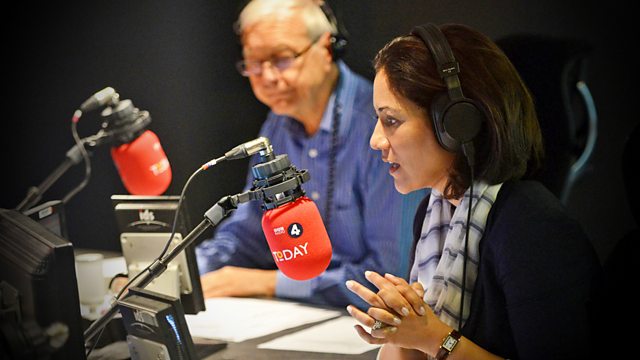 06/04/2009
Presented by John Humphrys and Evan Davis.
Hazel Smith, Professor of Security and Resilience at Cranfield University, discusses the threat of North Korea's rocket launch.
An earthquake has struck central Italy with an epicentre about 90 kilometres north-east of Rome. Agostino Miozzo, a spokesman for Italy's Civil Protection agency, discusses how thousands of people could be left homeless.
Evan Davis talks to three MPs about steps which may be taken to raise tax or cut public spending.
Mary Bousted of the Association of Teachers and Lecturers says teachers suffer widespread aggression from parents.
Tim Smith, chief executive of the FSA, visits Burger King and explains how menus will display calorie counts.
Dickie Fields from Keep Britain Tidy warns how postal workers could face fines for dropping rubber bands.
Mike Thomson reports on how the liberation of Paris in August 1944 was carried out without black French soldiers.
Thought for the day with Reverend Dr Giles Fraser, Vicar of Putney.
Foreign Office Minister Bill Rammell discusses why North Korea has launched a rocket capable of carrying a nuclear warhead.
At least 20 people have died in a powerful earthquake that has struck central Italy. Teacher Anna-Maria Spennati explains what has happened to the town of L'Aquila, and seismologist Dr Roger Musson discusses the likely effects.
Shadow Chancellor George Osborne examines the UK's IFS deficit figures.
Professor Bob Nerem, one of the world's leading stem cell scientists, says he sees the Obama presidency as a new era for this area of science.
North America Editor Justin Webb gives an insight into President Obama's visit to Turkey.
The last person to have to sort out such a big fiscal problem was Norman Lamont in his 1993 budget. The former chancellor Lord Lamont discusses what such fiscal tightening is like.
Duncan Kennedy reports on the devastation caused by the earthquake in Italy.
Professor Denis Dutton and a senior lecturer in philosophy, Nigel Warburton, discuss humanity's love of art.
Last on