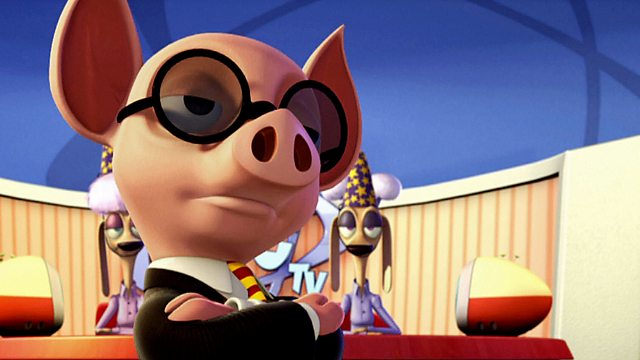 A 3D CGI animated comedy series for six- to 11-year-olds with two piggy brothers causing havoc in TV land. Pinky and Perky are a pair of piglets who have just been given their big break in showbiz: their own live children's television show full of crazy stunts, mad games, wild cartoons and top celebrity guests.
Their show is loud, messy, funny and frequently out of control, which makes it very unpopular with the old guard of the TV station. One way or another, they're going to get those pesky pigs off the air!
KT the put upon production assistant can't go to the ball, until Pinky and Perky decide to play Fairy Godpiglets.
It's party time at PPCTV! Sir Percival is feeling extra generous and is going to present the employee who impresses him the most with a special prize at the party. Everyone is intent on impressing Sir Percival and winning the prize. Everyone that is, apart from overworked KT who has too much to do and won't be able to attend.
Pinky and Perky decide KT must go to the ball and help her go in disguise. Sir Percival is impressed by the mysterious woman but when the clock strikes, it's showtime, and she runs away! Will Sir Percival find the mysterious woman, or will Vera pull the wool over his eyes?
Last on