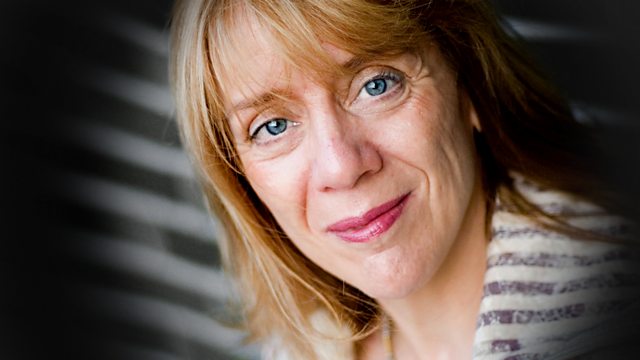 Mary King
With Mary King.
Featuring a motet by Bach, Holst's Invocation and an orchestral birthday present from Leonard Bernstein.
07.03
Weber: Perpetuum Mobile (Piano Sonata in C, Op 24)
Roland Pontinen (piano)
BIS CD-661, T5
07.08
Holst: Invocation for cello and orchestra
Tim Hugh (cello)
Royal Scottish National Orchestra
David Lloyd-Jones (conductor)
Naxos 8.553696, Tr 5
07.19
Haydn: Trio No 1 in D for flute, violin and cello
Barthold Kuijken (flute)
Sigiswald Kuijken (violin)
Wieland Kuijken (cello)
Accent ACC 68641D, Trs 1-3
07.32
Monteverdi: Chioma d'oro
Emma Kirkby, Evelyn Tubb (soprano)
Consort of Musicke
Anthony Rooley (director)
Carlton Classics 30366 0442, Tr 1
07.35
Handel: Concerto grosso in E minor, Op 6 No 3
Academy of Ancient Music
Andrew Manze (director)
Harmonia Mundi 907228, (D1) Trs 16-20
07.49
Grainger: Bridal March
Monteverdi Choir
English Country Gardiner Orchestra
John Eliot Gardiner (conductor)
Philips 446 657-2, Tr 4
07.55
Stanley: Voluntary in D, Op 5 No 5
Ton Koopman (organ of St Mary's Rotherhithe)
Capriccio 10 256, Tr 8
08.04
Berlioz: Overture (Benvenuto Cellini)
BBC Symphony Orchestra
Colin Davis (conductor)
Philips 416 955-2, D1 Tr 1
08.14
Campion: Come cheerful day
The English Ayre (Rachel Elliott (soprano)
Mark Padmore (tenor)
Peter Harvey (baritone)
Nigel North (lute)
Linn CKD 105, Tr 1
08.18
Suk: Spring (Spring)
Pavel Stepan (piano)
Supraphon 11 2233-2 111, Tr 5
08.24
Bach: Komm, Jesu, komm!
The Sixteen
Harry Christophers (conductor)
Hyperion CDA 66369, Tr 1
08.33
Purcell arr John Lewis: When I Am Laid In Earth
The Modern Jazz Quartet
The Swingle Singers
Philips 824 545-2, Tr 5
08.39
Scarlatti: Sonata in D minor, K213
Mikhail Pletnev (piano)
Virgin VBD5 61961-2, D1 Tr 14
08.47
Ravel: La valse
City of Birmingham Symphony Orchestra
Simon Rattle (conductor)
EMI CDC7 54204-2, Tr 14
09.03
Jarnefelt: Praeludium
Bournemouth Symphony Orchestra
Paavo Berglund (conductor)
EMI CD-EMX 2176, Tr 11
09.06
Ferrabosco: Peccantem me quotidie
The Huelgas Ensemble
Paul van Nevel (director)
Harmonia Mundi HMC901874, Tr 4
09.11
Chopin: Fantasie in F minor
Murray Perahia (piano)
CBS CD39708, Tr 7
09.24
Bach: Bourrees and Gigue (Cello Suite No 3 in C)
Peter Wispelway (cello)
Channel Classics CCS 12298, D1 Trs 17 and 18
09.32
Israel Lopez: Pueblo nuevo
Ruben Gonzalez (piano)
Ry Cooder (guitars)
Manuel 'Guajiro' Mirabel (trumpet) and friends
World Circuit WCD 050, Tr 4
09.38
Carl Michael Bellman: Charon i luren tutar
Anna Emilsson (soprano)
Jacob Lindberg (cister)
Todo Production TOP01
09.43
Bernstein: Divertimento for orchestra
City of Birmingham Symphony Orchestra
Paavo Jarvi (conductor)
Virgin VC5 45295-2, Trs 11-18.
Last on