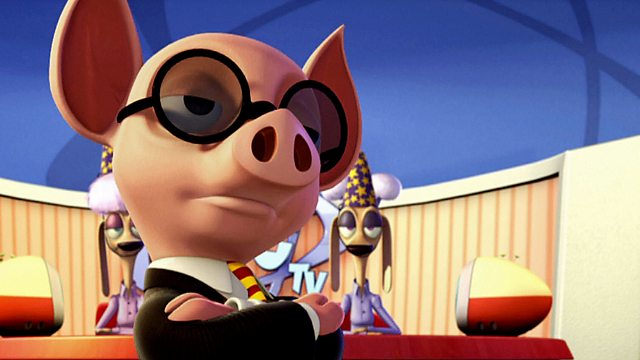 A 3D CGI animated comedy series for 6-11 year-olds with two piggy brothers causing havoc in TV land. Pinky and Perky are a pair of piglets who have just been given their big break in showbiz: their own live children's television show full of crazy stunts, mad games, wild cartoons and top celebrity guests.
Their show is loud, messy, funny and frequently out of control, which makes it very unpopular with the old guard of the TV station. One way or another, they're going to get those pesky pigs off the air!
Pinky and Perky are tricked into looking for pirate treasure and dig a big hole in their show! When scurvy villains Vera and Eric lay a dastardly plan to trick Pinky and Perky into believing that there is valuable treasure to be found at PPCTV, the piggy pirates leave no stone unturned in their hunt for booty galore! Unfortunately, they aren't very good at keeping secrets and before long, the whole studio has gone treasure hunt mad and the race is on to be the first to find the point where X marks the spot. In a swashbuckling episode in which Perky's greed almost gets the better of him, disaster is averted in the nick of time when the buccaneering adventurers uncover more than they were expecting.
Last on