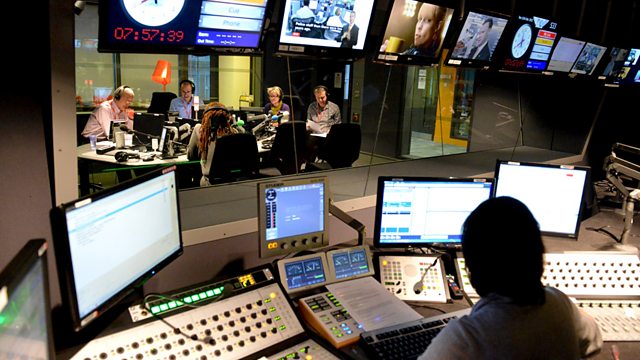 10/04/2009
Presented by James Naughtie and Sarah Montague.
Journalist Jason Burke discusses the potential for a terrorist attack in the UK.
Education correspondent James Westhead visits a classroom in Epsom to discover their view of Sats.
Designer Wayne Hemingway and Gavin Smart of the National Housing Federation discuss a 6.3 billion pound plan to build 100,000 new homes.
Lib Dem MP Lynne Featherstone and Shadow Education Minister Michael Gove discuss the Baby P case.
Prof Michael Akam explains the discovery of an egg collected by Charles Darwin during his voyage on HMS Beagle.
Thought for the day with the Archbishop of Canterbury Dr Rowan Williams.
Christine Blower, of the NUT, and Professor Alan Smithers discuss what teachers believe is wrong with Sats.
Correspondent Daniel Sandford, the Immigration Service Union's John Tincey and Prof Michael Clarke of the Royal United Services Institute discuss if student visas are "a major loophole in Britain's border controls".
The incoming Archbishop of Westminster, the Most Rev Vincent Nichols discusses his new role and his claims that existing condom adverts "demean" young people.
Correspondent Jim Muir gives details of demonstrations in Baghdad calling for an end to US "occupation", despite assertions that all US troops will be out of the Iraq by 2011.
Chief Superintendent Ian Johnston and filmmaker Roger Graef discuss if police officers are held in lower esteem than a generation ago.
Agnostic Mark Vernon and atheist poet Raymond Tallis discuss the grey area of religious views.
Classicist Dr Peter Jones and Professor Andrew Lambert discuss how the problem of piracy was tackled in the past.
Huw Williams reports on the earliest evidence of human beings in Scotland.
Last on
Paddington creator Michael Bond talks to Today