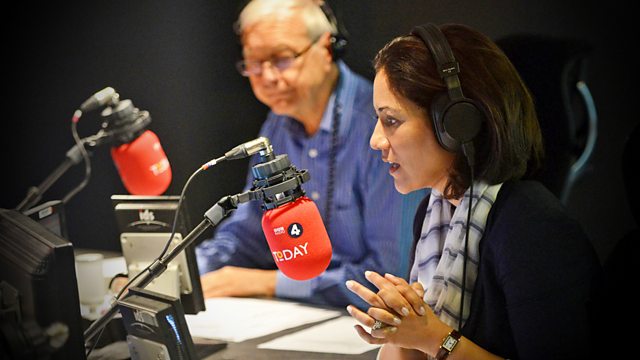 09/04/2009
Presented by James Naughtie and Sarah Montague.
Economics editor Stephanie Flanders and Michael Coogan of the Council of Mortgage Lenders discuss the interest rate decision facing the Bank of England.
Solicitor Harriet Wistrich discusses the footage of a police officer pushing a man to the ground at a G20 protest minutes before he died.
Nursery teacher Angela Forkin says children are being taught to read and write too early.
Broadcaster Charles Shoebridge, a former counter terrorism intelligence officer, and shadow security minister Baroness Neville-Jones discuss if an anti-terror operation was jeopardised.
Dame Joan Bakewell, the government's Voice of Older People, says some of the care provided for the elderly is deplorable.
Russia's foreign minister Sergei Lavrov has said the US and Russia should not force former Soviet states to pick between an alliance with Washington and Moscow, RIA news agency reports. Rupert Wingfield-Hayes reports on if there are "hidden agendas" in relations between the two nations.
Thought for the day with the Reverend Angela Tilby, vicar of St Bene't's Church in Cambridge.
Washington correspondent Richard Lister and Admiral Richard Gurnon, president of the Massachusetts Maritime Academy, discuss what the US can do to thwart Somali pirates.
Britain's most senior counter-terrorism officer, Bob Quick, has resigned after he accidentally revealed details of a secret anti-terrorism operation. Security correspondent Frank Gardner, Panorama reporter Peter Taylor and David Winnick MP discuss the blunder.
London Mayor Boris Johnson announces that he has accepted the resignation of Assistant Commissioner Bob Quick.
Broker Terry Smith and Angela Knight, of the British Bankers Association, discuss if some banks are "potentially too big to bail".
Richard Vinen, professor of Modern European History at King's College, London, and author Simon Jenkins discuss the legacy of Mrs Thatcher and Thatcherism.
Middle East editor Jeremy Bowen has been on both sides of the Gaza border to see what has changed since the Israeli offensive earlier this year.
Former London mayor Ken Livingstone discusses the resignation of Bob Quick and the announcement of his replacement, Assistant Commissioner John Yates.
What impact has the recession had on people's holiday plans? Ben Ross, travel editor of The Independent, and comedian Arthur Smith discuss if many more people are tempted to holiday in the UK.
Last on
So you think you know the Today programme?