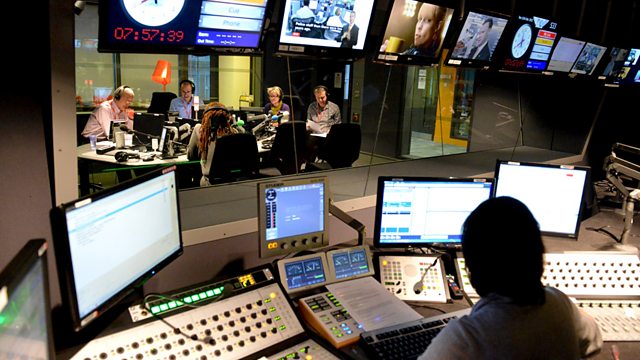 02/04/2009
Presented by Sarah Montague and John Humphrys.
Liberal Democrat treasury spokesman Vince Cable discusses Gordon Brown's handling of the G20 summit.
Chris Allen, director of health and safety at industry trade body Oil and Gas UK, says the cause of a helicopter crash into the North Sea off Aberdeenshire should be known quickly.
MPs Barry Sheerman and Graham Stuart discuss if schools should be allowed to opt out of the national curriculum entirely if they want to.
Reporter Andrew Hosken spends the day with G20 protesters around the City of London.
Gil Hoffman, political correspondent for the Jerusalem Post, discusses claims by new Israeli foreign minister Avigdor Lieberman that previous agreements between the two sides 'had no validity'.
Topshop's chief executive Sir Philip Green gives correspondent Greg Wood a tour of the new US store.
Thought for the day with Dom Anthony Sutch.
Simon Cox, of Radio 4's The Report (the programme which interviewed founder of Swiss right-to-die organisation Dignitas, Ludwig Minelli), discusses his call for the assisted suicide law to be clarified.
Business secretary Lord Mandelson discusses if the divisions between countries with different solutions to the economic turmoil can be resolved at the G20 summit.
Tom Hodgkinson, editor of magazine The Idler, discusses if the idea of play is being taken out of childhood.
Economist and Director of the Earth Institute Professor Jeffrey Sachs discusses to what extent the G20 should address the concerns of the developing world.
What do the Conservative Party think about the G20 summit? Shadow chancellor George Osborne discusses if Conservative policy would allow a quicker recovery from the global economic slowdown.
Technology correspondent Rory Cellan-Jones gives details of a new approach to tackling film piracy.
Correspondent Mike Thomson reflects on a ceremony to mark the murder of 800,000 people in Rwanda.
The Lady - England's oldest weekly magazine for women - has been relaunched. Editor Sarah Kennedy and Rowan Pelling, former editor of the Erotic Review, discuss how the magazine can compete when many other weekly titles are in trouble.
Last on
Paddington creator Michael Bond talks to Today