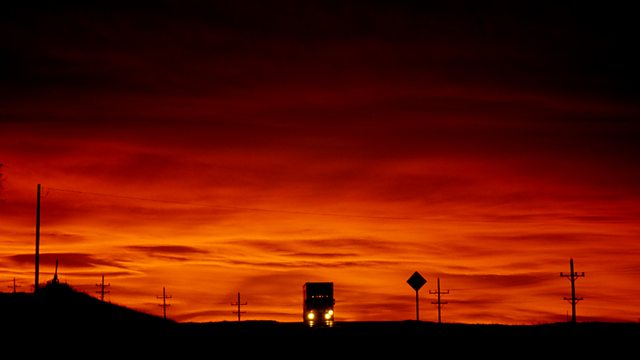 Susan Sharpe
With Susan Sharpe.
1.00am
Baldvinsson, Tryggvi M (b.1965); Halldorsson, Bjorn (text) (1724-1794): Ektamakinn elskulegi (My dear husband)
1.04am
Nordal, Jon (b.1926); Olafur at Sandar (text) (1560-1627): Framordid er og meir en mal (The hour is late); Gofgum godfuslega (Gladly let us praise); O, eg manneskjan auma (Oh, I am the wretched in grief)
1.10am
Olthof, Statius (1555-1629): Himneski Gud sem hefur nott til hvildar sett (Heavenly God who this night has put to rest)
1.14am
Anon (15th century Iceland): Sanctus; Credo; Antiphon; and Responsary
1.24am
Anon (12th century Iceland): Vir Iste in populo - processional at Thingeyri Church for the visit of Bishop Gudmundur Arason; Ave Maria (Lectionarem romanum)
1.30am
Palsson, Eggert (b.1960): The Beginning of the Voluspa
Voces Thule (choir)
1.34am
Sibelius, Jean (1865-1957): Lemminkainen Suite, Op 22
Finnish Radio Symphony Orchestra
Jukka-Pekka Saraste (conductor)
2.20am
Rameau, Jean-Philippe (1683-1764): Suite (Platee/Junon jalousie)
Concerto Copenhagen
Lars Ulrik Mortensen (director)
2.46am
Moniuszko, Stanislaw (1819-1872): Bajka (The fairy tale) - concert overture
Polish National Philharmonic Orchestra
Kazimierz Kord (conductor)
3.00am
Brahms, Johannes (1833-1897): Quartet No 1 in G minor for piano and strings, Op 25
Laurence Power (viola)
Kungsbacka Trio
3.43am
Anon (17th century): Ave potentissima
Kamila Zajickova (soprano)
Musica Aeterna Bratislava
Peter Zajicek (director)
3.51am
Bree, Johannes Bernardus van (1801-1857): Concert Overture in B minor
Netherlands Radio Symphony Orchestra
Jac van Steen (conductor)
4.02am
Mozart, Wolfgang Amadeus (1756-1791): Adagio in E, K261
Mozart Anniversary Orchestra
James Ehnes (violin/director)
4.11am
Schumann, Robert (1810-1856): Overture (Genoveva, Op 81)
Orchestre Nationale de France
Heinz Wallberg (conductor)
4.21am
Chausson, Ernest (1855-1899): Paysage, Op 38
Bengt Ake-Lundin (piano)
4.26am
Lindblad, Adolf Fredrik (1801-1878): Drommarne (Dreams)
Swedish Radio Choir
Swedish Radio Symphony Orchestra
Gustaf Sjokvist (conductor)
4.43am
Pez, Johann Christoph (1664-1716): Passacaglia and Aria (Concerto Pastorella in F)
Carin van Heerden, Ales Rypan (recorders)
L'Orfeo Barockorchester
Michi Gaigg (director)
4.51am
Beethoven, Ludwig van (1770 -1827): Finale from the ballet music to Prometheus
Slovak Radio Symphony Orchestra in Bratislava
Ludovit Rajter (conductor)
5.00am
Schubert, Franz (1797-1828): Spirits' Song above the Waters, Op 167
Estonian National Male Choir
Estonian National Symphony Orchestra
Juri Alperten (director)
5.11am
Haydn, (Franz) Joseph (1732-1809): String Trio in B flat, Op 53 No 2 (arr. from piano sonata, H XVI 41)
Leopold String Trio
5.19am
Wanski, Jan (1762-1821): Symphony on Themes from the Opera Pasterz nad Wisla
Polish Radio Symphony Orchestra
Andrzej Mysinski (conductor)
5.33am
Doppler, Franz (1821-1883): Andante and Rondo for two flutes and piano, Op 25
Karolina Santl-Zupan, Matej Zupan (flutes)
Dijana Tanovic (piano)
5.43am
Gounod, Charles (1818-1893): Salut, demeure chaste et pure (Faust) - aria
Faust ...... Peter Dvorsky (tenor)
Slovak Radio Symphony Orchestra Bratislava
Ondrej Lenard (conductor)
5.48am
Gluck, Christoph Willibald (1714-1787): Dance of the Blessed Spirits (Orphee et Euridice)
Australian Brandenburg Orchestra
Paul Dyer (conductor)
5.55am
Bach, Johann Christoph Friedrich (1732-1795): Trio in C for flute, violin and continuo
Musica Petropolitana
6.07am
Bach, Johann Sebastian (1685-1750): Magnificat in D, BWV243
Antonella Balducci (soprano)
Ulrike Clausen (alto)
Frieder Lang (tenor)
Fulvio Bettini (baritone)
Chorus of Swiss-Italian Radio
Ensemble Vanitas Lugano
Diego Fasolis (conductor)
6.34am
Flury, Richard (1896-1967): Three Pieces for violin and piano
Sibylle Tschopp (violin)
Isabel Tschopp (piano)
6.42am
Beethoven, Ludwig van (1770-1827): Rondo in C, Op 51 No 1
Andreas Staier (fortepiano)
6.48am
Wegelius, Martin (1846-1906): Rondo quasi fantasia for piano and orchestra
Margit Rahkonen (piano)
Finnish Radio Symphony Orchestra
Petri Sakari (conductor).
Last on