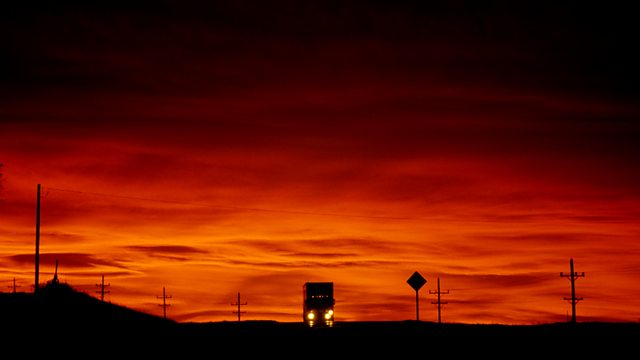 Susan Sharpe
With Susan Sharpe.
1.00am
Lassus, Orlande de (1532-1594): Omnia tempus habent; Il etait une religieuse; Au feu, au feu, venez-moi secourir; Paisible domaine; O vin en vigne; Vignon, vignon; Matona mia cara; Come la notte ogni fiamella; Chi chilichi?; Cantai hor piango; Ardo si, ma non t'amo; Hort Zu ein news gedicht; Ein guten Raht; Im Mayen (Musica, Dei donum optimi)
The King's Singers:
Jeremy Jackman, Alastair Hume (countertenors)
Bob Chilcott (tenor)
Anthony Holt, Simon Carrington (baritones)
Colin Mason (bass)
1.45am
Bach, Johann Sebastian (1685-1750): Die Kunst der Fuge (The Art of Fugue), BWV1080
Amsterdam Bach Soloists
3.00am
Reicha, Antoine (1770-1836): Quintet in B flat for clarinet and strings, Op 89
Joze Kotar (clarinet)
Slovene Philharmonic String Quartet
3.24am
Beethoven, Ludwig van (1770-1827): Symphony No 4 in B flat
Norwegian Radio Orchestra
Eivind Aadland (conductor)
3.59am
Geminiani, Francesco (1687-1762): Concerto grosso in D minor, Op 7 No 2
La Petite Bande
Sigiswald Kuijken (conductor)
4.09am
Handel, Georg Frideric (1685-1759): Mi lusinga il dolce affetto (Alcina) - aria
Ruggiero ...... Graham Pushee (countertenor)
Australian Brandenburg Orchestra
Paul Dyer (artistic director)
4.15am
Scarlatti, Domenico (1685-1757): Sonatas for keyboard: in C, Kk460; in C, Kk461
Andreas Staier (harpsichord)
4.24am
Weber, Carl Maria von (1786-1826): Divertimento assai facile for guitar and fortepiano, J207
Jakob Lindberg (guitar)
Niklas Sivelov (fortepiano)
4.36am
Madetoja, Leevi (1887-1947): Iltatahti (Night Star)
Risto Kyro (piano)
4.40am
Wagner, Richard (1813-1883): Siegfried Idyll for small orchestra
Norwegian Radio Orchestra
Arvid Engegard (conductor)
5.00am
Stanford, Charles Villiers (1852-1924): When Mary thro' the garden went; The Haven (Eight Partsongs, Op 127, Nos 3 and 4)
BBC Singers
Bob Chilcott, Stephen Cleobury (conductors)
5.07am
Vaughan Williams, Ralph (1872-1958): Norfolk Rhapsody No 1 in E minor
Melbourne Symphony Orchestra
Bernard Heinze (conductor)
5.18am
Walton, William (1902-1983): March, Elegy, Scherzetto (Three Pieces for organ)
Ian Sadler (organ)
5.24am
Berwald, Franz (1796-1868): String Quartet in E flat
Zetterqvist Quartet
5.43am
Gassman, Florian Leopold (1729-1774): Stabat mater
Capella Nova Graz
Otto Kargl (conductor)
5.55am
Purcell, Henry (1659-1695): Chacony a 4 in G minor for strings, Z730
Simon Standage (violin)
Il Tempo
Agata Sapiecha (violin/artistic director)
6.01am
Koehne, Graeme (b.1956): Capriccio
Clemens Leske (piano)
Adelaide Symphony Orchestra
Janos Furst (conductor)
6.21am
Gilson, Paul (1865-1942): Andante and Scherzo for cello and orchestra
Timora Rosler (cello)
Flemish Radio Orchestra
Martyn Brabbins (conductor)
6.30am
Grieg, Edvard (1843-1907): Three Lyric pieces (Book 5, Op 54, No 2, No 4 and No 3)
Sveinung Bjelland (piano)
6.42am
Hellendaal, Pieter (1721-1799): Concerto grosso in D for strings and continuo, Op 3 No 5
Combattimento Consort Amsterdam.
Last on