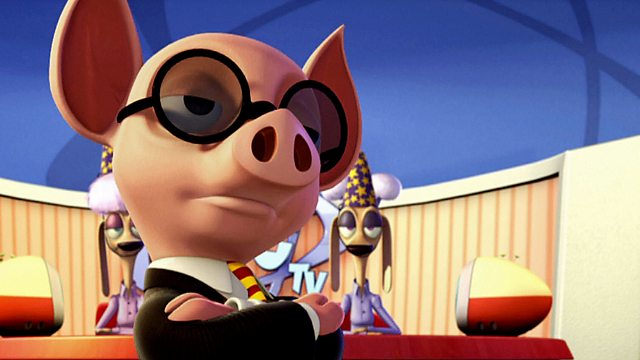 Robin Hood and His Merry Pigs
A 3D CGI animated comedy series for 6-11 year-olds with two piggy brothers causing havoc in TV land. Pinky and Perky are a pair of piglets who have just been given their big break in showbiz: their own live children's television show full of crazy stunts, mad games, wild cartoons and top celebrity guests.
Their show is loud, messy, funny and frequently out of control, which makes it very unpopular with the old guard of the TV station. One way or another, they're going to get those pesky pigs off the air!
There's arrow escapes for our heroes when their arch rival gets a bump on her bonce and believes she's back in Sherwood Forest! Hamilton Boar The Third, top Hoggywood actor and star of the latest 'Robin Hood' blockbuster, has agreed to appear in a sketch on The Pinky & Perky Show and both pigs are excited about playing one of his Merry Men.
It also transpires that Vera has a huge crush on hunky Hamilton which gets out of control after she suffers a bump to the head, leading her to believe she is actually Maid Marian. Things only get worse when Hamilton quits just before they go on air and Perky steps in to play Robin Hood, with Vera's ongoing identity crisis resulting in further confusion! What will it take to bring Vera to her senses?
Last on