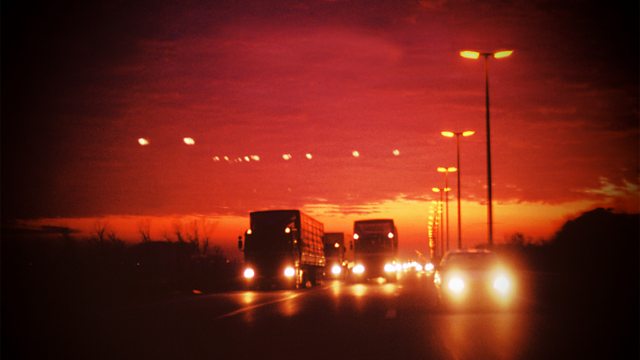 The Road Wife
THE ROAD WIFE
BY EOIN MCNAMEE
Edward Coyle is a truck driver. Delivering a cargo of fish on a new route in Ireland he comes across a woman who lives her life, and makes her living on the road, moving from one truck to another. The Road Wife.
Driving into town with his delivery Coyle gives a lift to a female Asian hitchhiker but soon discovers she is more of a passenger than he bargained for, especially when his truck is stopped by immigration officers and he and his illegal occupant are taken in for questioning.
Finding himself implicated in her case Coyle soon discovers that his own past is returning to haunt him. But what is it Coyle is trying to forget?
In a world where people are forced to hide their identities, everyone has secrets, even the immigration workers themselves. The story of one woman who forces a community to look at their mistakes, examine their consciences, and asks is it ever possible to escape or outrun your past?
A gripping radio drama debut from acclaimed writer Eoin McNamee.
Cast
Cast includes STUART GRAHAM (Hunger, Omagh), SU-LIN LOOI (Bugs, Holby), ALISON MCKENNA (The Actors, The Ambassador), GERARD MCSORLEY (Veronica Guerin, The Constant Gardener, Omagh) and SAMANTHA HEANEY (soon to be seen in Pumpgirl, 2009)
Writer
Eoin McNamee was born in County Down, Northern Ireland, in 1961. His first book was a collection of two novellas, THE LAST OF DEEDS, which was shortlisted for the 1989 Irish Times/Aer Lingus Award for Irish Literature, and LOVE IN HISTORY. He was awarded the Macauley Fellowship for Irish Literature in 1990. RESURRECTION MAN, published by Picador in 1994 (and of which the Irish Times said 'one of the most outstanding pieces of Irish fiction to come along in years'), was adapted by McNamee into a film starring Stuart Townsend. THE BLUE TANGO was published by Faber in 2001. It was long-listed for the Booker Prize, and short-listed for the Irish Times Award for Irish Literature. Eoin's third novel, THE ULTRAS, was published by Faber in 2004. His most recent novel, 12:23, was published in July 2007.
Eoin McNamee has now branched out even further, with a trilogy of novels for ten- to fourteen-year-olds. The first,THE NAVIGATOR, spent four weeks in the top ten of the New York Times bestseller list. The sequel, CITY OF NIGHT, has recently been published, and the concluding book, THE FROST CHILD, will be published in 2009. Eoin is now embarked on a new trilogy for young adults, THE RING OF FIVE.
THE ROAD WIFE
BY EOIN MCNAMEE
Edward Coyle is a truck driver. His first time on a new route introduces him to a nameless Asian woman who lives her life and makes her living on the road, moving from one truck to another. The Road Wife. When an anonymous call is made to immigration Coyle finds that not only is he implicated in her case, but his own past is returning to haunt him.
COYLESTUART GRAHAM
THE ROAD WIFESU-LIN LOOI
MICHELLEALISON MCKENNA
SLOANGERARD MCSORLEY
NATASHASAMANATHA HEANEY
JESUSOLIVER MICELI
LEELOGAN WONG
MCCALLVINCENT HIGGINS
BOBBYPETER BALLANCE
HUTTENLOCHERPETER JANKOWSKY
NIGERIAN CHILDLORETTA ADENUGA
PRODUCER/DRIECTORHEATHER LARMOUR.
Last on