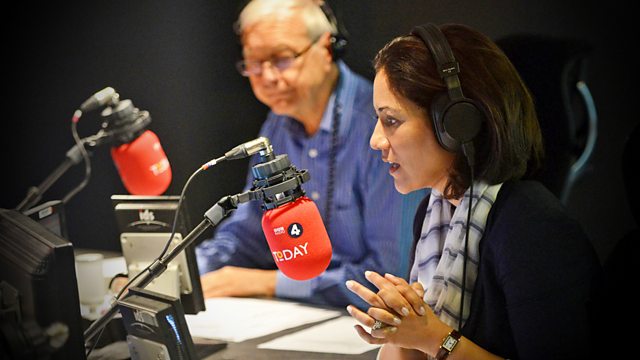 23/03/2009
Presented by Sarah Montague and Edward Stourton.
Sir Alistair Graham, former chairman of the Committee on Standards in Public Life, discusses whether the rules for MPs' expenses need to be changed.
Ian Pannell, the BBC correspondent in Kabul, examines the challenges that Barack Obama's administration faces in Afghanistan.
The last few bodies are being taken from Poland's largest ever mass grave from WWII. Jonny Dymond reports from the town of Malbork in Poland.
US Treasury Secretary Timothy Geithner has been outlining ideas for dealing with toxic assets. Jeremy Stretch from Rabobank examines the plans.
Rev Steve Chalk and Derek Munn from Stonewall discuss whether the law concerned with gay hate should be changed.
Phil Mercer reports from the Australian town of Marysville on what people are finding as they return to homes devastated by bushfires.
Thought for the day with Rev Dr Colin Morris.
Professor Ross Anderson and Michael Wills, the Minister in the Justice Department, discuss government databases.
MPs Alan Duncan and Don Touhig discuss the row over MPs' allowances.
The Sun's editor Graham Dudman and Madeleine Bunting discuss the phenomena of Jade Goody and what role the media played in her life and death.
Matt Golding of Rubber Republic and journalist Emily Bell discuss the success of 'viral' advertising for the Today programme.
The Royal Society of Medicine is holding a conference on autism. Dr Michael Fitzpatrick explains the focus of the conference.
Evidence has emerged that the BBC faced almost daily allegations of bias against the Shah of Iran shortly before he was forced from power by the 1979 revolution. Mike Thomson from Radio 4's Document explains.
Will Straw, from the Fabian Society, and Conservative Home editor Tim Montgomerie discuss if political parties in the UK should scrap membership fees and harness the power of the internet.
Roger Gray, a former firearms officer and Robbie Gillett, an environmental campaigner, analyse a report by the Joint Committee on Human Rights concerning the right to protest.
Last on