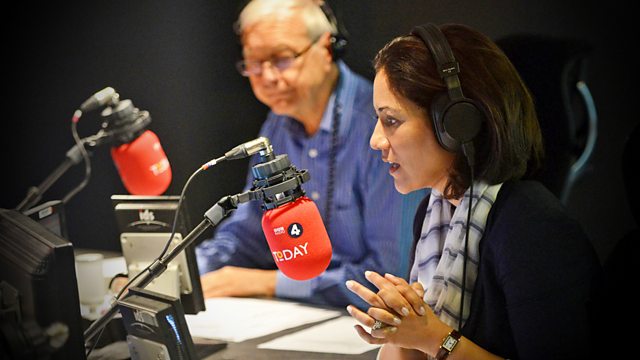 26/03/2009
Presented by John Humphrys and James Naughtie.
Correspondent Norman Smith explains the political implications of the government's failure to sell all its gilts, or government guaranteed bonds, for the first time since 1995.
Liberal Democrat and spokesman for Communities and Local Government Julia Goldsworthy discusses the impact of surveillance on civil liberties.
Reporter Jon Kay travels to a village in Devon where there is a high prevalence of second homes.
Mental health expert Professor Michael King examines why treatments to 'turn people straight' are still being offered despite being discredited by the medical community.
Lord Guthrie explains why he thinks an inquiry into allegations of British complicity in the rendition of people detained by British Forces is necessary.
Neil Sinden of the Campaign to Protect Rural England and architecture critic Jonathan Glancey debate whether pylons are intrusive eyesores or can be viewed as objects of beauty.
Thought for the day with Dom Anthony Sutch.
Liberal Democrat MP Matthew Taylor has urged the government to put restrictions on the purchase of second homes in rural communities. Mr Taylor discusses the problems faced by villages with large numbers of second home owners with property expert Kirstie Allsopp.
The Audit Commission has concluded from a report on English local authorities' deposits in the Icelandic banks that many behaved 'negligently'. Rita Greenwood from Havering Council responds to the accusations. Steve Bundred of the Audit Commission and John Ransford of the Local Government Association discuss the implications of the report.
It is understood that the rules on advertising are to be relaxed to allow pregnancy advice services to be advertised on TV and radio for the first time. Andrew Brown, Chairman of the Committee on Advertising Practice, explains what has been involved in the review.
Some 25,000 pupils across the UK will be involved in producing their own news stories as part of the BBC's School Report News Day. Romaissa and Rayma from Islamia Girls' High School produced a report on celebrity culture; they discuss their experience interviewing PR guru Max Clifford.
Professor of Family Planning and Reproductive Health John Guillebaud discusses how population growth can be brought down without infringing on people's right to reproduce.
Mathematician Professor James Murray explains how maths can be used to assess the compatibility of married couples.
Bankers and business leaders from the countries involved in the G20 summit meet for breakfast in Canary Wharf ahead of the talks to address the global economic crisis. Economics editor Stephanie Flanders reports.
Sir Mark Walport, Director of the Wellcome Trust, explains how EU proposals to tighten regulations on how animals are used in research could affect scientific advancement.
Graham Allen MP and Simon Blake of sexual health charity Brook discuss whether advertising pregnancy advisory services on TV would make an impact on teen pregnancy figures.
Last on