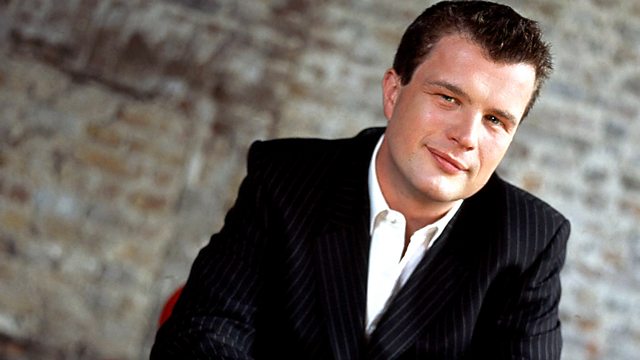 20/03/2009 Garth Knox and the Skampa Quartet.
Presented by Petroc Trelawny.
With a selection of music and guests from the music world, including a rare opportunity to hear an unusual instrument, the viola d'amore, in the studio, with a performance by Garth Knox and cellist Agnes Vesterman ahead of their recital at Kings Place.
Czech string quartet the Skampa Quartet also play in the studio and talk to Petroc about their forthcoming performances at the Reading Concert and Wigmore Halls.
17:02
PURCELL
'Come, ye sons of art' – Ode for the Birthday of Queen Mary. (Sound the trumpet)
From Charles Brett (counter-tenor)
John Williams (counter-tenor)
Monteverdi Orchestra
John Eliot Gardiner (conductor)
ERATO 4509965532
Track 3
2'27
17:05
DVORAK
Piano Quintet No.2 in A major, op.81 (Scherzo - Furiant)
Kathryn Stott (piano)
Škampa Quartet
SUPRAPHON SU 3909-2
Track 7
4'14
17:10
J. STRAUSS II
Frülingsstimmen-walzer ("Voices of Spring")
Natalie Dessay (soprano)
Berliner Sinfonie Orchester
Michael Schønwandt (conductor)
EMI CDC5565652
Track 11
9'04
17:22
LIVE
MARIN MARAIS
Folies
Garth Knox (viola d'amore)
Agnès Vesterman (cello)
7'03
17:34
LIVE
TRAD (Arr. Garth Knox)
Port na Pudai (Meditation by Knox) / I once loved a lass / Jig
Garth Knox (viola d'amore)
Agnès Vesterman (cello)
5'27
17:45
LIVE
GARTH KNOX
Nine Fingers
Garth Knox (viola)
Agnès Vesterman (cello)
3'30
17:50
COPLAND
An Outdoor Overture
London Symphony Orchestra
Aaron Copland (conductor)
SONY CLASSICAL SM3K46559
CD1, Track 2
8'54
18:03
WARLOCK
Spring from Peterisms, 2nd set
Adrian Thompson (tenor)
John Constable (piano)
COLLINS CLASSICS 15002
Track 25
1'11
18:04
UNKNOWN
They say it's Spring
Blossom Dearie (piano and vocals)
Ray Brown (bass)
Jo Jones (drums)
VERVE 8379342
Track 15
3'22
18:08
FERDINAND SOR
Variations on a Theme by Mozart, op.9
Andrés Segovia (guitar)
DEUTSCHE GRAMMOPHON 477 8133
CD3, Track 8
6'59
18:20
LIVE
SCHUBERT
String Quartet no.15 in G major, D.887 / Op.161 (Scherzo)
Škampa String Quartet
7'03
18:36
LIVE
MARTINU
String Quartet No.7 "Concerto de Camera" (Andante)
Škampa String Quartet
6'41
18:44
BELLINI
La sunnambula (Prendi: l'anel ti dono - Accept this: this ring I give you)
Luciano Pavarotti (Elvino)
Joan Sutherland (Amina)
National Philharmonic Orchestra
Richard Bonynge (conductor)
DECCA 4174242
CD1, Track 8
4'55
18:50
BRAHMS
Scherzo in E flat minor, op.4
Stephen Kovacevich (piano)
PHILIPS 442 109-2
CD1, Track 4
8'40
Last on