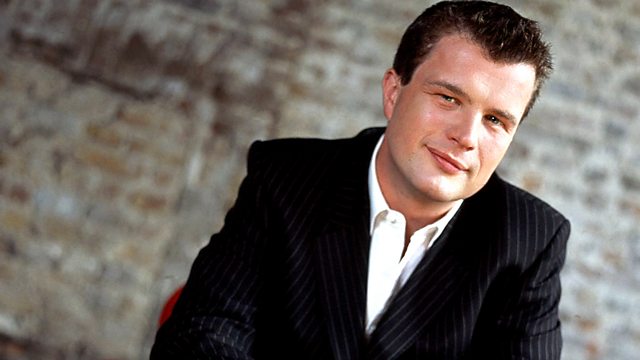 19/03/2009 Royal String Quartet and William Butt
Presented by Petroc Trelawny.
Former BBC New Generation Artists, the Royal String Quartet, perform music in the studio by their Polish compatriots Szymanowski and Rozycki. They talk to Petroc about their UK tour and the annual Kwartesencja Festival which they set up in Warsaw in 2004.
Ahead of performances of all six of Bach's Cello Suites at St John's Smith Square, London, William Butt plays Bach and Britten in the studio.
17:02
LIVE
MOZART
Quartet for strings no. 20 in D major K.499 (Menuetto)
Royal String Quartet
3'05
17:06
CHOPIN
3 Mazurkas for piano (Op.59) (No.1 in A minor)
Piotr Anderszewski (piano)
VIRGIN 7243 5 45620 2 0
Track 1
4'10
17:15
LIVE
SZYMANOWSKI
String Quartet No.2 (Vivace Scherzando)
3'45
17:26
LIVE
ROZYCKI
String Quartet in D minor Op. 49 (Allegro) (extract)
2'54
17:29
BACH
Prelude and fugue in G, BWV 541
Lionel Rogg (organ)
EMI 2642892
CD 2
Tracks 3-4
7'29
17:38
BRUCKNER
Virga Jesse floruit
Polyphony
Stephen Layton (conductor)
HYPERION CDA 67629
Track 12
3'49
17:42
HAYDN
Concerto in F major hob. VIIh:5 for two recorders, strings and two horns
Daniel Rothert, Philip Spätling (recorders)
Cologne Chamber Orchestra
Helmut Müller-Brühl (conductor)
NAXOS 8.570481
Track 13-15
12'26
17:56
STRAVINSKY
Circus Polka
London Symphony Orchestra
Michael Tilson Thomas (conductor)
RCA 09026 688652
Track 2
3'24
18:03
HANDEL
Messiah (Hallelujah Chorus)
English Chamber Orchestra and Choir
Raymond Leppard (conductor)
WARNER 2564 69283-5
Track 20
4'00
18:08
BRITTEN
Occasional Overture, Op.8
City of Birmingham Symphony Orchestra
Simon Rattle (conductor)
EMI 2427462
CD 2
Track 8
7'12
18:15
LIVE
BACH
Suite No1 in G major, BWV 1007 (Prelude)
William Butt (cello)
2'33
18:25
LIVE
BRITTEN
Britten suite No 2 opus 80 (Declamato)
William Butt (cello)
3'25
18:34
LIVE
BACH
Suite No 6 in D major, BWV 1012 (Courante)
William Butt (cello)
4'00
18:39
GRIEG
Three Orchestral Pieces from Sigurd Jorsalfar, op.56
Malmö Symphony Orchestra
Bjarte Engeset (conductor)
NAXOS 8.557991
Trackr 24-26
16'21
Last on