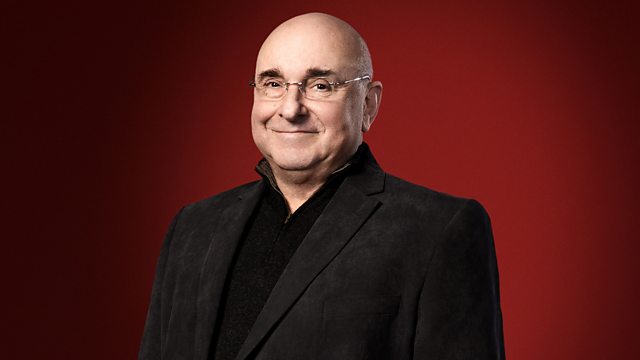 Gardens
Mary King sits in for Iain Burnside and presents music about the therapeutic qualities of gardens. She is joined by David Wheeler, editor of Hortus magazine, who is convinced his garden helped him in his battle with cancer.
Music includes Britten, Falla and Tchaikovsky.
Puccini: Madama Butterfly - Tutti fior (Flower Duet)
Rome Opera Orchestra/Erich Leinsdorf
GD84145 CD 2 Track 8
Hummel - Trumpet Concerto (finale)
Wynton Marsalis / English Chamber Orchestra / Raymond Leppard
Sony Classical SK57497 tr 11
Delius: In a Summer Garden
Hallé Orchestra/Vernon Handley
Classics for Pleasure - 5753152 tr 7
Little Shop of Horrors: Grow For Me
Conducted by Henry Aronson
DRG 12998 tr 4
Rameau: La Guirlande
(Air - Choeur - Menuets)
(orch - choir - orch)
Choeur des Arts Florissants/Cappella Coloniensis des WDR/William Christie
ERATO 8573 85774 2 CD 1 tr 6,7,8
Debussy: Jardins sous la pluie
Mark Swartzentruber (piano)
Solo records SLR5 tr 8
Michael Gandolfi: The Garden of Cosmic Speculation
(excerpt - The Snail and the Poetics of Going Slow)
Atlanta Symphony Orchestra / Robert Spano
Telarc 80696 tr 3
Diego Ortiz: Recercada Segundo del tenore
Pamela Thorby recorder/Andrew Lawrence King harp
Linn CKD 291 tr 1
Mozart: Marriage of Figaro (Act IV Sc 10)
Patrizia Ciofi (Susanna)/Concerto Köln/René Jacobs
Harmonia Mundi HMC 901818.30 CD3 tr 17
R Strauss: Four Last Songs (September)
Felicity Lott (sop)/SNO/Neeme Järvi
Chandos CHAN 8518 tr 8
De Falla: Nights in the Garden of Spain
Tzimon Barto (piano)/ASMF/Neville Marriner
EMI 572 097 2 tr 9
Handel: Organ Concerto no Opus Number in A Major
Simon Preston / English Concert / Trevor Pinnock
DG Archiv 413 465 2 CD 2 Track 12
Thomas ArneJenny
Philip Langridge (tenor)/Tristan Gurney (violin)/Malcolm Layfield (violin)/Jennifer Langridge (cello)/ David Owen Norris (piano)
Signum Classics -SIGCD 101tr 18
Tchaikovsky: Waltz of the Flowers
London Symphony Orchestra / Charles Mackerras
Telarc CD80140 tr 13
Britten: The Evening Primrose
From Five Flower Songs
The Sixteen/Harry Christophers
Collins Classics 12862 tr 11
Britten: To Daffodils
From Five Flower Songs
The Sixteen/Harry Christophers
Collins Classics 12862 tr 8
Beethoven: Christus am Ölberge
Deutsches Symphonie-Orchester Berlin / Kent Nagano
Harmonia Mundi HMC801802 tr 1
Autumn Leaves
Oscar Peterson
Johnney Mercer/Prevert/Cosma
LC259 tr 10
Alec Roth The Tarrying Garden from Chinese Gardens
Mark Padmore (tenor)/Morgan Szymanski (guitar)
Signum Classics SIGCD 124 tr 15
Grainger; Country Gardens
Eastman Pops Orchestra/Frederick Fennell
Decca 470126-2 tr 1
The Briar and the Rose (trad)
Nathan Gunn (bar)
Sony Classical 88697-06510 tr 2
Sumer is icumen in (trad)
The Dufay Collective
Chandos Chan 9396 tr 20.
Last on