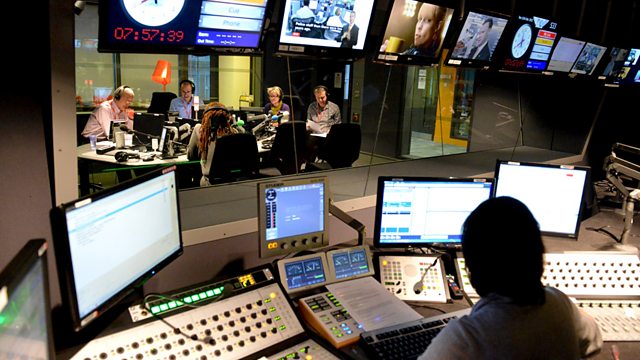 18/03/2009
Presented by John Humphrys and Sarah Montague.
Mortgage expert Ray Boulger discusses the impact limited borrowing will have on homeowners and first time buyers.
Mark Mardell reports on how attitudes in Germany are shifting away from feelings of European solidarity.
Science correspondent Tom Feilden explains the implications of finding water on Mars.
Italian chef Ermano Furlanis describes his trip to Pyongyang to train North Korean dictator General Kim Jong-Il chefs in the art of pizza making.
Karen Allen reports from Kenya and speaks to victims of human rights abuses.
Health expert John Heyworth and Nigel Edwards of the NHS Confederation discuss what can be done to prevent mistakes in patient care from being repeated.
The creators and stars of the science fiction TV series Battlestar Galactica have taken part in a public discussion with UN officials in New York. UN correspondent Laura Trevelyan explains.
Thought for the day with Vishvapani, a member of the Western Buddhist Order.
Sean Hodgson was convicted of murder in 1982, but new DNA evidence suggests he may have been innocent. Mr Hodgson's solicitor Julian Young discusses what could turn out to be a huge miscarriage of justice.
Financiers Jon Moulton and Terry Smith discuss whether proposed FSA changes will change banking culture.
Patrick Barclay, chief football correspondent at The Times, and the author Musa Okwonga examine the various skills that are required to be a good football manager.
Pope Benedict XVI has commented that handing out condoms can only worsen the crisis of HIV/AIDS. Martin Prendergast, from the charity Catholics for Aids Prevention and Support and Dr William Oddie, the former editor of the Catholic Herald, consider whether or not the Pope was right to make the statement.
Josef Fritzl, the Austrian man who kept his daughter in a cellar and fathered her children, changes all his pleas to guilty. Steve Rosenberg reports.
An NHS trust has become the first in the country to try fitting dementia patients with tracking devices. Clive Evers of the Alzheimer's Society explains the benefits of the system.
Figures suggest that for one in seven children in school, English is their second language. We speak to headmaster Tim Benson.
Professor Alston explains what has been happening to human rights defenders in Kenya since he left the country.
Professor David Spiegelhalter, a leading Cambridge statistician, has accused the media of misusing statistics by making too much of one-off events, such as a spate of stabbings. He outlines how journalists have used statistics wrongly in the past.
Last on