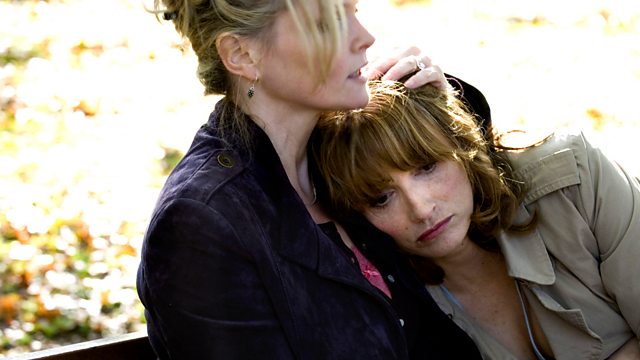 Jessica is suffering from the worst hangover of her life following the massive drunken bust-up with Mark, and she is mortified when reminded of her actions. The newlyweds soon make-up, and Mark whisks Jessica away for a romantic weekend, but it is not long before an unwelcome visitor bursts their romantic bubble.
Trudi's discovery that Richard's estranged wife Natalie is living in a care home has left her horrifed. When Trudi lets Richard finally explain, she is terrified that she will hate him. Trudi tentatively forgives him, and they visit Natalie together. But once reality hits, can Trudi ever really trust Richard again?
Jack surprises Katie with a trip down memory lane; they spend the perfect day together, until Jack has to go home to his wife and kids. Katie heads round to boyfriend Dan's house for lunch, but is shocked to find Jack and his wife are there to join them. Filled with guilt, Katie cannot play at being the happy couple any more, and their pleasant lunch turns sour.
Siobhan is at her wits' end trying to get her marriage with Hari back on track. She encourages him to open his own restaurant so she can leave her job and be a stay-at-home mum. It seems she has found the perfect solution, but there is someone who does not want to make it that easy for her...
Last on
Credits
| Role | Contributor |
| --- | --- |
| Katie | Sarah Parish |
| Trudi | Sharon Small |
| Siobhan | Orla Brady |
| Jessica | Shelley Conn |
| Hari | Raza Jaffrey |
| Richard | Patrick Baladi |
| Jack | Steven Brand |
| Dominic | Adam Rayner |
| Dan | Mark Umbers |
| Lucas | Sean Francis |
| Tom | Thomas Lockyer |
| Mark | Oliver Milburn |
| Producer | Rhonda Smith |
| Simon | Adam Astill |
| Megan | Natasha Little |
| Carrie | Preeya Kalidas |
| Elaine Thompson | Katy Carmichael |
| Vicki Kendall | Katie Jones |
| Natalie | Alison Rose |
| Duggan | Marc Danbury |
| Cathy | Joanna Wright |
| Gina | Flossie Ure |
| Amy | Lizzie Watkins |
| Director | Francesca Joseph |